Four Herbs to Help Hair Grow: Increasing Hair Strength Naturally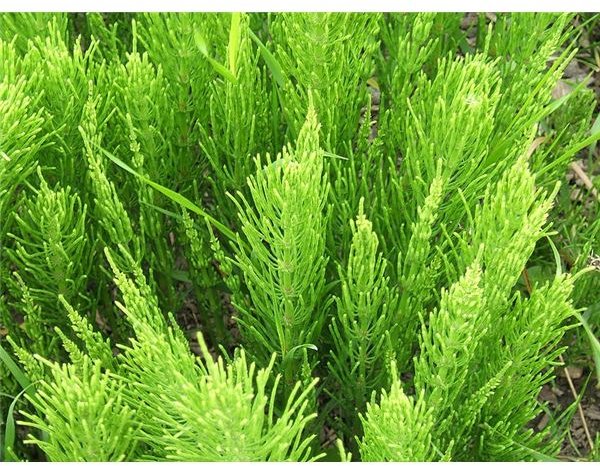 Herbal Solutions for Healthy Hair
Herbs are great for your hair. Some are beneficial because of active phytochemicals and others are ideal for helping hair grow because of their high concentration of nutrients. Some herbs should be taken internally to promote longer, thicker hair, while others are most effective when applied topically. Horsetail, oat straw, sage and rosemary are four of the best herbs for healthy hair. Find out why they are so useful and how to use them to promote new hair growth.
Horsetail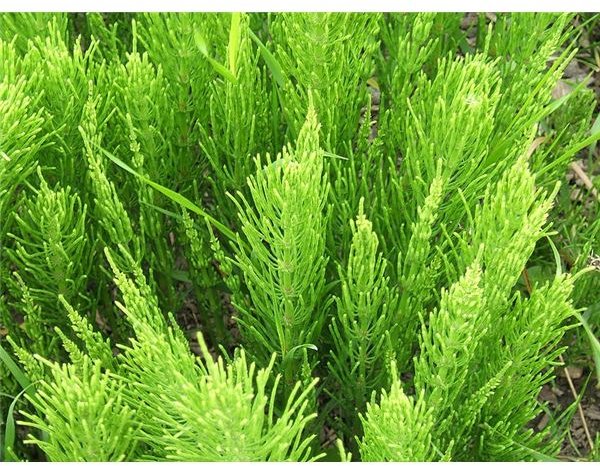 Horsetail is often recommended as a natural remedy for healthier hair and improved growth. You may have even seen a bottle of horsetail shampoo, advertising thicker, longer hair. This herb is reputed to encourage growth mainly because it is a good source of silicon, the mineral that is necessary for the formation of healthy hair, skin and nails, as well as the connective tissue for arteries and bones. Horsetail is also a source of several other nutrients that are important for hair, including the B vitamins and vitamin C.
To have stronger, longer locks you can drink a horsetail infusion or take in a supplemental capsule or tincture form. To make a cup of tea from the dried herb steep two teaspoons of horsetail with one cup of boiling water for fifteen minutes. Strain and drink. Horsetail is safe for general use but talk to your doctor before use if pregnant or nursing. Also, avoid taking horsetail consistently for long periods of time as it contains enzymes that can break down the vitamin thiamin, leading to a deficiency of this nutrient over time.
Be sure to purchase your horsetail from a trusted source. With a reputation as an effective herb for hair loss there are many products available for purchase, not all of them are necessarily effective. Only use Equisetum arvense.
Oat Straw
Like horsetail, oat straw is rich in nutrients, including silica. It is not only an herb that can help with hair growth and strength but it is considered as an overall beauty herb, improving skin and nails as well. As with horsetail, the best way to use this herb for your hair is to take it internally. In fact, an herbal infusion made with one teaspoon horsetail and one teaspoon of oat straw is an excellent herbal tea for hair growth.
You can also make a hair rinse with this herb. After shampooing and conditioning as usual pour one cup of oat straw infusion over your hair. Massage into the scalp, leave in and towel dry.
Oat straw does not contain as much silica as horsetail, but it is more approachable for long-term use and there are no known negative side effects. It is also a slightly sweet, enjoyable herb to drink as an infusion with several other health benefits including nourishing the nervous system and relieving stress. Oat straw is high in B vitamins, vitamin A and E, all of which are important for new hair growth.
Sage
Sage is another of the best herbs to help hair grow. It is a good source of nutrients as well as active compounds, particularly volatile oils and flavonoids, antioxidants that may help with hair growth ( a study involving mice published in the Journal of the National Medical Association found that polyphenolic compounds encourage hair regrowth in some cases).
While you can drink sage tea, this herb is also useful for encouraging growth and improving shine when used topically. Make a hair rinse with equal parts of a sage infusion and apple cider vinegar for new growth. As with the oat straw hair rinse, pour over hair after washing and do not rinse out.
Make a natural scalp conditioner with sage essential oil for healthier hair and to prevent thinning. Add six drops of sage essential oil to one ounce of jojoba oil. Massage into the scalp for three minutes before shampooing hair.
If making a sage tea to use as a rinse or to drink steep one teaspoon of the dried leaves in one cup of boiling water. Do not take sage if pregnant or nursing or if you have a seizure disorder.
Rosemary
Rosemary is high in antioxidants that can protect hair follicles from damage and it improves circulation, stimulating growth. When applied to the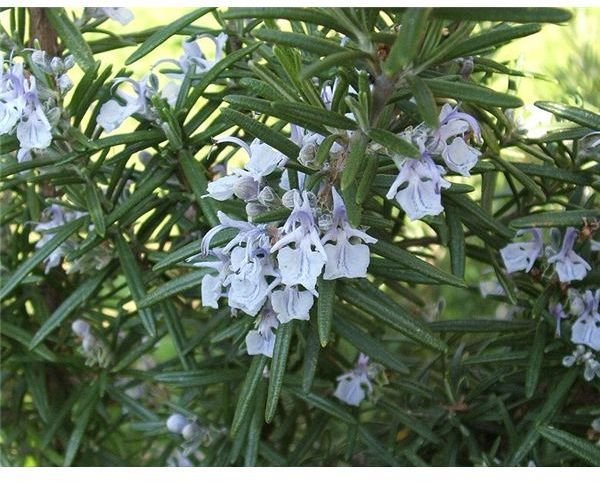 hair this herb also cleanses the scalp as it has excellent anti-bacterial and anti-fungal properties.
Like sage, rosemary is more beneficial for helping hair grow when used externally. Make a hair rinse using one cup of rosemary infusion, one tablespoon of lemon juice and one tablespoon of white vinegar.
Use rosemary essential oil to make a hot oil hair treatment. Warm two tablespoons of olive oil and five drops of rosemary essential oil in a glass jar or plastic bag, placed in hot water. Comb through slightly damp hair with your fingers. Cover your hair with a towel and leave on for twenty minutes before washing out.
References
Medicine Plus. https://www.nlm.nih.gov/medlineplus/druginfo/natural/843.html
The effects of tea polyphenolic compounds on hair loss among rodents. US National Library of Medicine. https://www.ncbi.nlm.nih.gov/pubmed/16173333
Balch, Phyllis A. "Prescription for Nutritional Healing." Fourth Edition (Penguin Books, 2006).
Hoffmann, David. "The Complete Illustrated Holistic Herbal: A Safe and Practical Guide to Making and Using Herbal Remedies." (Element Books, 1996).
Page, Linda. "Healthy Healing: A Guide to Self-Healing for Everyone, 11th Edition" (Traditional Wisdom, 2003).
photo by MPF/wiki
photo by Luigi Chiesa/wiki
Disclaimer
Please read this disclaimer regarding the information contained within this article.