What is Comfrey Root For? Is It Safe to Use?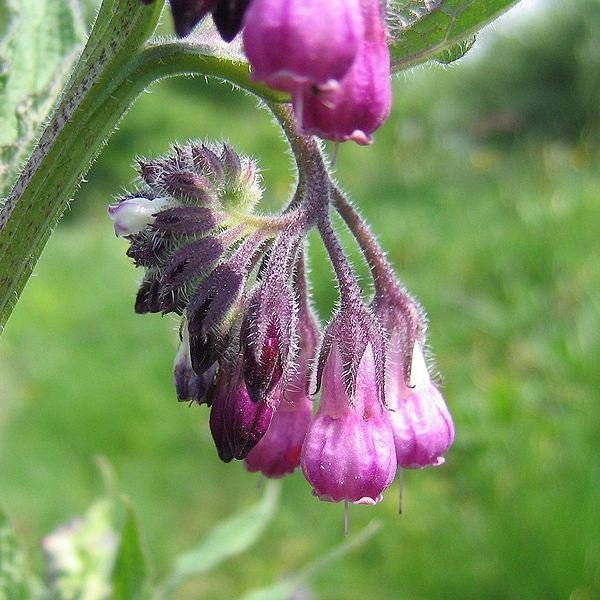 Comfrey (Symphytum officinale) is a perennial plant belonging to the Boraginaceae family. It has been cultivated and used as a healing herb since about 400 BC. The Romans and Greeks used this herb as a tea and poultice to treat bronchial problems, stop heavy bleeding and heal wounds and broken bones. It is native to Europe and Asia, was brought to America for medicinal uses by English immigrants and can now be found growing wild across North America.
Internal use was quite common until about 30 years ago, when scientific studies reported that comfrey may cause liver damage and may possibly be carcinogenic due to toxins called pyrrolizidine alkaloids (PAs). According to animal studies, it appeared to cause both liver damage and cancerous tumors in rats. At least one human death has been implicated when taken internally in extreme amounts.[1] The roots have been shown to contain about ten times the amount of PAs as the young leaves or stems.
Because of these concerns, products using comfrey that are intended for internal use have been banned for sale in the United States, Canada and a few other countries.
External Uses
There is no implication of danger when comfrey root is used for external use.
Comfrey, especially the root, contains a chemical compound called allantoin. This compound has anti-inflammatory properties and promotes cell proliferation. It is believed to speed up the healing process of burns and wounds when applied topically due to an increase in the number of white blood cells. Mucilage, another constituent, is thought to promote healthy skin with its moisturizing and soothing effects.
Comfrey root has been used topically to treat a variety of conditions, including minor wounds and burns, bruises, strains, sprains, arthritis, gout, eczema, psoriasis, boils, acne, varicose veins and hemorrhoids.
Studies
The following studies showed positive results when using a comfrey root extract called Kytta-Salbe:
Back Pain
This study involved 120 individuals, between the ages of 18 and 60, with upper or lower back pain with no identifiable cause such as trauma or a slipped disc. All participants rubbed the same amount of ointment on their backs three times a day for five days. Half of the participants used the Kytta-Salbe ointment, and the other half used a placebo ointment.
During the study, 95 percent of the people who used the ointment with comfrey root had a reduction in pain during normal movement and 97 percent had decreased pain at rest. Only 38 percent of those who received the placebo had a reduction in pain with movement and 40 percent at rest.
Participants who used the Kytta-Salbe ointment found relief within an hour. Four of these people experienced side effects, including runny nose, cold, nausea and eczema. Three participants in the placebo group also experienced side effects, including itchiness and headache.[2]
Osteoarthritis of the Knee
This study involved 220 participants, including 153 women and 67 men. The average age was 58 years, and all suffered from osteoarthritis knee pain for an average of 6 1/2 years. Those who used the comfrey root ointment, a daily application over a three week period, had significantly better results in pain, mobility of the knee and quality of life than those who used a placebo ointment.[3]
Ankle Sprains
A double-blind, placebo-controlled study involving 142 individuals with acute ankle sprains found that the Kytta-Salbe ointment was significantly more effective in the treatment of pain and swelling than a placebo. No adverse reactions were reported.[4]
In another study involving 164 people with acute ankle sprains, Kytta-Salbe was compared with Diclofenac gel, a nonsteroidal anti-inflammatory drug. The comfrey extract was superior to the drug in reducing pain and swelling.[5][6]
Preparations
You can buy salves and ointments containing comfrey root - use as directed. You can also buy the dried root in bulk online or at some health food stores.
To prepare a poultice, grind the root into a powder using a blender and mix with water or aloe vera gel to form a paste. Spread the paste on a clean piece of cloth (white cotton or unbleached muslin), fold the cloth and apply to the affected area.
Precautions
Test a small area first to check for sensitivity.
Do not apply to broken skin, and do not use on large areas without talking to your health care provider first.
Do not use for more than ten days in a row. Consult your doctor if your condition persists or worsens. Do not use for more than four to six weeks a year.
Comfrey root is not recommended for women who are pregnant. If breastfeeding, consult your health care provider before using.
References
Purdue University: Comfrey - https://www.hort.purdue.edu/newcrop/afcm/comfrey.html
Medicine Net: Comfrey - https://www.medicinenet.com/comfrey_symphytum_officinale-topical/article.htm
[1] Journal of Gastroenterology and Hepatology 5(2): 211-4
[2] Br J Sports Med. 2010 Jul;44(9):637-41. Epub 2009 May 21
[3] Phytomedicine. 2007 Jan;14(1):2-10. Epub 2006 Dec 13
[4] Phytomedicine. 2004 Sep;11(6):470-7
[5] Phytomedicine. 2005 Nov;12(10):707-14
[6] Arzneimittelforschung. 2007;57(11):712-6
Image: Symphytum officinale by Nova under CC BY 3.0
Disclaimer
Please read this disclaimer regarding the information contained within this article.