Common Astringent Herbs and Their Uses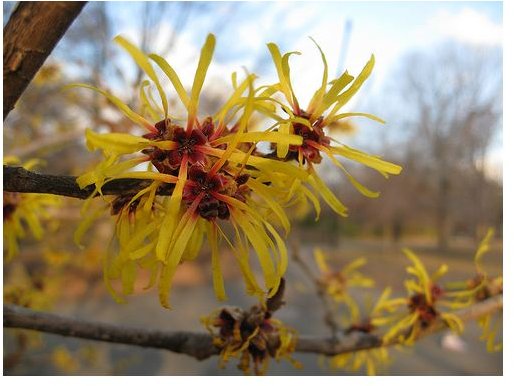 The Astringent Effect
What effect do plants with astringent properties have on the body? An astringent contracts tissue, pulling cells together. The result is that tissue is tightened and toned, which can be helpful in cases of unwanted discharges or secretion such as blood or other bodily fluids. Astringent herbs are rich in tannins, which are the active phytochemicals that act to draw together cells. Some are mild and safe even for children, such as meadowsweet and others are more intense and should be used in moderation, such as witch hazel.
What Do Astringents Do?
What are these herbs generally used for? There are a variety of uses for herbs with astringent properties. They can be beneficial for toning the digestive tract, which is helpful for diarrhea and indigestion. Tightening and drying tissue, these herbs are also often used in cosmetic properties to tone the skin, preventing sagging skin and helping to balance oily skin. They can also promote wound healing by closing skin cells. Another use for astringents is to use for the mucous membranes of the throat. A natural gargle made with one of these herbs can be helpful for treating laryngitis and sore throat. They are also beneficial for treating the urinary system, toning tissue when there is blood in the urine.
List of Herbal Astringents
The following are some of the more common astringent herbs:
Red sage, which also has anti-microbial properties, is useful for making a gargle and for external wound healing. This astringent should not be used during pregnancy or nursing.
Agrimony is often used for digestive problems as it also benefits the liver and has a stimulating effect on the digestive system. With vulnerary properties, agrimony is also used in topical ointments for speeding the healing of minor wounds and bruises.
Meadowsweet both protects and soothes the mucous membranes of the digestive tract. It is helpful for indigestion, diarrhea, and nausea.
Witch hazel is one of the most well-known astringents, frequently used in skin care products for its toning effect on the skin. Distilled witch hazel can be found in a ready to use form in most health food stores and is ideal for skin care, but also for treating hemorrhoids, bruises, and swellings as it also has anti-inflammatory properties.
Rhubarb root is a unique and valuable astringent for cleansing the colon. First, this herb acts as a laxative, reliving constipation and removing waste. It then tones the tissue of the intestines, and cleanses with antiseptic properties.
Bayberry is another herb that is well-suited for digestive issues. It also can be used to make a gargle for sore throats.
Plantain is useful for diarrhea, hemorrhoids, and toning the urinary tract.
How to Use
To use these herbs internally you can make an herbal infusion. Steep two teaspoons of the dried plant in one cup of boiling water for ten minutes. When treating the digestive or urinary system drink one to three cups daily. To make an herbal gargle simply make an infusion and let it cool to room temperature and then gargle. For skin toning and wound healing astringents can be applied topically. You can purchase an ointment at a health food store, soak a clean cloth in an herbal infusion and apply, or in the case of witch hazel, dab distilled witch hazel onto the skin with a clean cotton cloth. While these herbs are generally safe for use, talk to your doctor before using herbal medicine if you are pregnant or are taking any medications.
References
Hoffmann, David. "The Complete Illustrated Holistic Herbal: A Safe and Practical Guide to Making and Using Herbal Remedies." (Element Books, 1996).
Balch, Phyllis, CNC. "Prescription for Nutritional Healing, 4th Edition." (The Penguin Group, 2006).
photo by Jennifer Dunne
Disclaimer
Please read this disclaimer regarding the information contained within this article.