Foods That Help Lower Cholesterol and Decrease the Risk of Heart Disease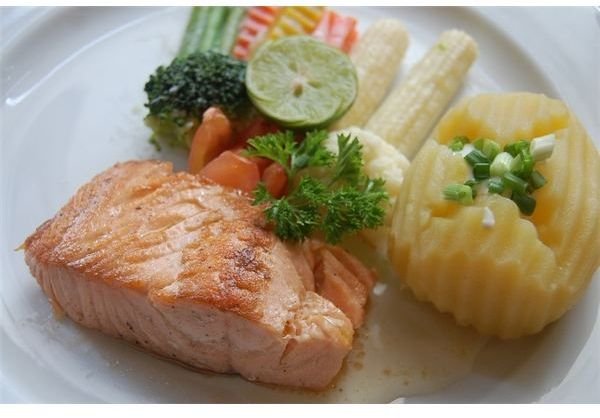 The body needs cholesterol to function properly but too much can put one at risk for heart attack or stroke. There are two "vehicles" in the blood that transport cholesterol: LDL (low-density lipoproteins) and HDL (high-density lipoproteins). LDL carries cholesterol from the liver to the body's cells. HDL carries cholesterol back to the liver to be dismantled and disposed. When LDL levels are high, more than what the body's cells need, and/or HDL levels are low, cholesterol will accumulate in the arteries and clog them.
Foods High in Fiber
Fiber comes from the portion of plant foods that the human body cannot digest, and is classified as soluble or insoluble. Soluble fiber has been shown to help lower cholesterol levels. Insoluble fiber does not appear to affect levels, but it is important for normal bowel function. According to Mayo Clinic, 5 to 10 grams or more of soluble fiber a day can help decrease total and LDL (bad) cholesterol.
The following are foods high in soluble fiber:
1 cup of oat bran = 5 grams
1 small apple = 2.3 grams
1 small potato = 2.2 grams
1/2 cup of pinto beans (cooked) = 2.2 grams
1/2 cup of peas (cooked) = 2 grams
1 slice of rye bread = 1.4 grams
1 medium tangerine = 1.4 grams
1/2 cup of brown rice = 1.3 grams
1 medium orange = 1.3 grams
2 medium plums = 1.3 grams
3/4 cup rolled oats (cooked) = 1.3 grams
1 large carrot = 1.3 grams
1/2 cup of summer squash (cooked) = 1.1 grams
1/2 cup of zucchini (cooked) = 1.1 grams
Cold Water Fish
Cold water fish are an excellent source of omega-3 fatty acids, including eicosapentaenoic acid (EPA) and docosahexaenoic acid (DHA). According to American Family Practice, omega-3 lowers triglyceride levels in the blood by inhibiting the synthesis of triglycerides and very-low-density lipoprotein (VLDL) cholesterol in the liver. A review of studies involving humans concluded that approximately 4 grams of omega-3 per day decreased triglyceride levels by 25 to 30 percent and increased HDL (good) cholesterol levels by 1 to 3 percent.
The American Heart Association recommends eating two servings of fish a week for people with no history of coronary heart disease (CHD), and at least one serving a day for those with CHD.
The following cold-water fish can help lower cholesterol:
salmon - 1/2 fillet (198 grams) has 4,637 milligrams of omega-3
herring - 1 fillet (184 grams) has 3,473 milligrams
mackerel - 1 fillet (112 grams) has 2,991 milligrams
sardines (canned in oil) - 1 cup (149 grams) has 2,205 milligrams
tuna (canned in water) - 1 can (172 grams) has 1,636 milligrams
When preparing your fish, bake or grill it instead of frying in oil to avoid unhealthy fats.
Nuts
Nuts are a great source of healthy monounsaturated fats, and have been shown by many studies to have powerful cholesterol-lowering effects. According to one study, published in the journal Diabetes Care, people who ate a handful of walnuts each day, along with a healthy diet, had an increase in HDL cholesterol levels and a 10 percent decrease in LDL levels. Another study, published in the journal Circulation, showed that those who ate a handful of almonds a day had a 4.4 percent decrease in LDL levels, and those who ate two handfuls had a 9.4 decrease. Peanuts, pecans, hazelnuts, pistachios and some pine nuts are also beneficial in lowering levels.
Choose nuts that are not salted or coated with sugar. Only a handful (about 1 to 1.5 ounces) a day is needed, which is good because nuts are high in calories.
Foods Fortified with Sterols and Stanols
Sterols and stanols are substances found in plants that can help lower LDL levels by blocking the absorption of cholesterol. Two grams a day have been shown to lower levels by more than 10 percent. However, they do not appear to affect levels of HDL cholesterol or triglycerides. These substances are added to a variety of foods, such as orange juice, yogurt drinks, granola bars and margarines.
Soy
Although research shows mixed results, some studies do suggest soy may lower total cholesterol, LDL levels and triglycerides without significantly lowering HDL levels. One study, published in the American Journal of Clinical Nutrition, showed that people who ate 50 grams of soy protein a day, along with other cholesterol-lowering foods, had about the same results as those who took cholesterol-lowering drugs.
Foods include soy products like burgers and cheeses, soy nuts, soy flour, soymilk, tofu, edamame, tempeh and miso.
Olive Oil
According to Mayo Clinic, olive oil can lower LDL cholesterol due to its potent mix of antioxidants. The Food and Drug Administration (FDA) recommends 2 tablespoons a day. To get the best effects, use extra-virgin olive oil, which contains more antioxidants.
Getting the Best Results
The above foods that help lower cholesterol can be helpful, but it is also important to take other factors into consideration, such as:
eating a well-balanced diet including a variety of healthy foods
limiting foods high in cholesterol
limiting saturated fats and avoiding trans fats - over 200 studies now suggest it is bad fats, and not cholesterol, that affects cholesterol levels most
exercising regularly - according to Patrick McBride, MD, MPH, director of the Preventive Cardiology Program and the Cholesterol Clinic at the University of Wisconsin School of Medicine and Public Health, "Consistent regular exercise can lower triglycerides by 30 to 40 percent and boost HDL by 5 to 8 mg/dL."
maintaining a healthy weight
References
Mayo Clinic: Cholesterol: Top 5 foods to lower your numbers - https://www.mayoclinic.com/health/cholesterol/CL00002
Fat Free Kitchen: Soluble Fiber Foods List - https://www.fatfreekitchen.com/soluble-fiber-foods-list.html
American Academy of Family Physicians: Omega-3 Fatty Acids - https://www.aafp.org/afp/2004/0701/p133.html
Self Nutrition Data - https://nutritiondata.self.com/ (This website was used to research the amount of omega-3 in the above mentioned fish.)
Web MD: The New Low-Cholesterol Diet: Nuts - https://www.webmd.com/cholesterol-management/features/nuts-help-lower-bad-cholesterol
Web MD: The New Low-Cholesterol Diet: Soy - https://www.webmd.com/cholesterol-management/features/low-cholesterol-soy-protein
Web MD: Exercises to Control Your Cholesterol - https://www.webmd.com/cholesterol-management/features/exercises-to-control-your-cholesterol
Photo by Pokkie (public domain) / Wikimedia