Gluten Free Meal Plans: Organizing Your Diet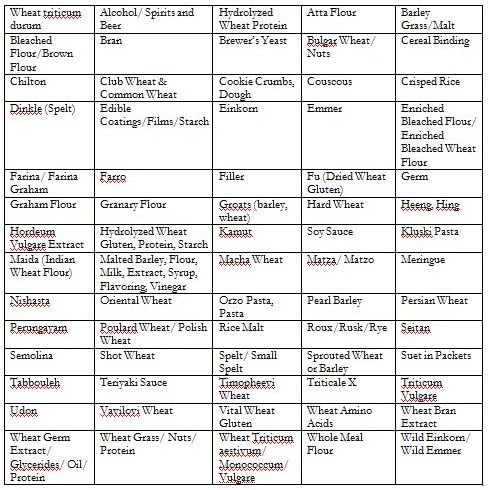 The digestive system is a whole set of organs that are specifically suited to digest and absorb food and nutrients into the body that the body needs to grow and be healthy. One of the most important parts of the digestive system is the small intestine. It has millions of villi or fingerlike projections. These villi are what absorb the nutrients in the body. When a person is diagnosed with celiac disease, the disorder makes them have a poor reaction to foods that contain gluten. When gluten is eaten, the immune system has a reaction to the protein and breaks down the villi located throughout the small intestine. When these little components of the body are damaged, the body can no longer absorb any nutrients or vitamins into the body to keep it healthy.
Gluten is a common term for proteins that are grouped together in grains such as wheat, barley and rye derived from each of those or holding different names such as durum, semolina, spelt and triticale. Gluten is second to sugar in our diets on a daily basis because grains are so common in every day diets that people eat.
Gluten Free Eating and What to Avoid
There are many food items out there that you might want to avoid if you have Celiac Sprue. This is because this disorder can harm your digestive system, and can cause permanent damage.
There are other foods that you think are safe, but may have gluten in them. This entails researching foods with hidden gluten and reading labels. If the food is made in North America, then it is usually a gluten free item. Caramel coloring may or may not contain gluten depending on how it is manufactured and produced. This is something you might want to avoid all together if you're not sure if it contains gluten or not. Dextrin should also be avoided if you're unsure of the source.
Planning Meal Plans for Gluten Free Eating
There are many gluten free meal plans that you might want to stick with, of course, these are just examples. You will need variations of food in your diet each and every day. This is something that you want to keep in mind, and take consideration of the foods on the avoid list above. Make sure to read all labels for offending foods or note if the product says 'gluten free'.
Meal Plan 1
Breakfast — cornflakes, Rice Krispies, or buckwheat flakes with 200 ml skim milk with 1 tsp sugar or 2 slices of gluten-free bread with olive oil spread and fruit jam. 200 ml fruit juice with a mug of tea or coffee.
Mid Morning Snack — 2-3 small rice cakes with peanut butter or one fruit along with a mug of tea or coffee.
Lunch — sandwich with 2 slices gluten-free bread and olive oil spread, one slice of cooked chicken, low fat natural yogurt with a mixed salad and water to drink.
Mid Afternoon Snack — 2 to 3 rice cakes with cottage cheese or one fruit along with one mug of tea or coffee.
Dinner — chicken breast, white fish or lean meat with Basmati rice or gluten-free pasta. Add a salad or vegetables.
Evening Snack — 1 to 2 gluten-free biscuits along with water to drink.
Continue to page 2 for more meal plan ideas.
More Meal Plan Ideas
Meal Plan 2
Breakfast — breakfast burrito, whole tangerine, 1 cup 1% milk or soy milk or replace the milk with non fat yogurt.
Lunch — brown rice and veggies in a bowl, 1 cup of carrot sticks with 2 tablespoons of light salad dressing.
Mid Afternoon Snack — 1/3 cup Rice and Corn Chex mix
Dinner — tamale pie with 1 cup of salad greens and 1 cup of mixed vegetables. For the dressing: 1 tablespoon of balsamic or raspberry vinegar or a tablespoon of olive oil.
Evening Snack — ½ cup of natural/fresh or frozen peaches.
Meal Plan 3
Breakfast — rolled or steel cut oats warmed up and mixed with a ½ teaspoon of cinnamon and ½ cup of 1% milk or soy milk.
Mid Morning Snack — 1 apple with 2 ounces of cottage cheese.
Lunch — 1 can cream of tomato soup with 1.5 cups of mixed salad and 1 tablespoon of light salad dressing.
Mid Afternoon Snack — 1 cup of plain yogurt mixed with ½ cup of crushed pineapple in juice. You can also substitute pineapple with organic, fresh strawberries, blueberries or peaches.
Dinner — 1 veggie burger with a tablespoon of salsa in a whole wheat tortilla. 2 cups of mixed green salad and a ½ cup of mixed veggies. Use 1 tablespoon of raspberry or balsamic vinegar.
Evening Snack — 1 small pear or apple or 1 cup of applesauce.
List of Gluten Free Recipes and Shopping Tips/Trackers
References:
Celiac Disease: https://digestive.niddk.nih.gov/ddiseases/pubs/celiac/
Gluten Free Foods: https://www.glutenfree-diet.org/foods.htm
Gluten Free Diet Guide for Families: https://www.cdhnf.org/user-assets/documents/pdf/GlutenFreeDietGuideWeb.pdf
Gluten Free Diet: https://familydoctor.org/online/famdocen/home/healthy/food/diets/1026.html