Meal Replacements for Children: Are Meal Replacements Bars and Drinks Healthy for your Child?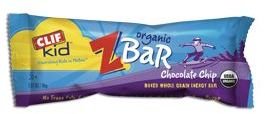 For children on-the-go, nutrition can come in the form of healthy snack bars or nutritious shakes. Packed with essential vitamins and minerals, these quick nutrition options for children can come in very handy for kids who are picky eaters and would do anything to avoid eating a bowl of cereal at breakfast.
These healthy bars and shakes are also a good option when your child needs a quick energy boost during or after an exhausting sports practice session. Let's have a look at the different bars and shakes available for kids and how you can choose the right one for your child.
Healthy Meal Replacement Bars for Kids
Most children would love to dig their teeth into delicious bars and if these can provide the necessary nutrition, parents are happy too. You can find various kinds of these healthy bars for children. However, not all of these are really healthy.
Cereal Bars
While choosing a healthy cereal bar you should make sure that it is made from whole grains and is low in fat. Any cereal bar that claims to contain real fruits may actually just be made of high-fructose corn syrup or concentrates of different fruits.
Clif® Kid Organic Z Bar is a healthy nutritious bar for kids as it contains no fructose, corn syrup or hydrogenated oils and is made of 10g whole grains. It is low on sugar and fat and contains 3g dietary fiber and 3g protein along with nutrients such as niacin, calcium and folate.
Granola Bars
Similarly, granola bars for kids may be a healthy breakfast bar since these contain rolled oats, honey, raisins and nuts, things that are highly nutritious. However, here again, you should avoid bars that are high in sugar and fat.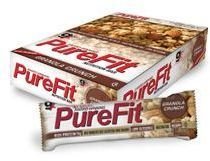 PureFit® Granola Crunch is an option that you can look for here since it is not high in sugar and fat but provides 3g of dietary fiber and 18g of protein.
Protein Bars
If you are looking for an extra dose of protein for your kid, consider protein bars for children. The protein that these provide can range anywhere from 10 to 30 grams. These options are a good idea for your child if he or she is into active sports such as athletics and requires building lean muscles. However, check the ingredients and avoid those that are high in carbohydrates, fats and calories.
Although PureFit's bars are also high in protein, kids may not always need protein as much as adults. Here, PowerBar® Nut Naturals is a good option since it provides 10g of proteins, enough for most children.
Energy Bars
For that quick boost of energy just before or after a sports event, energy bars are also an option for your child. These often contain proteins and carbohydrates and may also have herbs and vitamins that can help improve the performance of your child. But be wary of caffeine that may be present in some of these energy bars. Also, herbs may cause an allergic reaction in your child.
Here again, PowerBar® Nut Naturals are good energy bars since they are high in proteins and contain a mix of some very healthy nuts.
Diet Bars
Parents often consider using diet bars for children who are obese. These are usually meant to be used instead of breakfast and lunch to facilitate loss of weight. These are not often good options for your child since what they need at this young age is a healthy attitude towards eating healthy and exercising. So, instead of trying these weight loss bars, try giving them a balanced diet along with instilling a habit of exercising.
Healthy Meal Replacement Drinks for Children
Meal replacement shakes are another way of giving your kid the essential vitamins and minerals any time during the day. Again, make sure to check the ingredients carefully.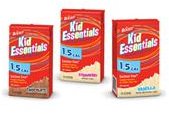 A healthy drink for kids is Boost Kid Essentials by Nestle. It is suitable for children in the age range of 1-13 years and is lactose-free, gluten-free and also kosher. It provides 25 essential vitamins and minerals, including 1181mg of calcium, 1140mg of potassium and 2743 IU of Vitamin A in a 1000ml pack. It also provides thiamine, riboflavin, manganese, zinc, vitamin B6 and E. For additional protein, vitamins and minerals, choose Kid Essentials 1.5.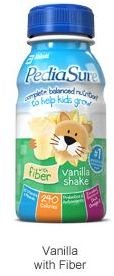 Another healthy drink for kids is provided by Pediasure by Abbott Laboratories. It is available in different flavors and provides 240 calories. Its protein content is 7g and dietary fiber is 1g. If you choose the vanilla flavor with fiber, your child will get 3g of dietary fiber. Pediasure meal replacement shakes also contain a healthy dose of all essential vitamins and minerals such as vitamin A and C, calcium, and iron.
Meal replacements for children can definitely give your child the added nutrition that may be missing in their regular diet. However, no bar or drink can replace a healthy balanced diet. So, try and incorporate the habit of healthy eating and exercising in your child and use these meal replacement bars and shakes only for that that additional boost of nutrients.
References
Kids Health: Kids and On-The-Go Nutrition - https://kidshealth.org/parent/nutrition_center/healthy_eating/cereal_bars.html#
CLIF® BAR Family Foundation: Clif Kid Organic Z Bar - https://www.clifbar.com/food/products_clif_kid_zbar
PureFit: Nutritional Information for PureFit Nutrition Bars - https://www.purefit.com/nutrition-info.html
Société des Produits Nestlé S.A: PowerBar® Nut Naturals - https://www.powerbar.com/products/46/powerbar-nut-naturals-energy-bar-mixed-nuts.aspx
Société des Produits Nestlé S.A: Boost® Kids Essentials - https://www.nestle-nutrition.com/Products/Product.aspx?ProductId=e67aaec0-d4b4-4acd-b26a-9c1873e0c9c5
Abbott Laboratories: Pediasure Products - https://pediasure.com/kid-nutrition-products/pediasure-nutrition-drink
Image Credits
CLIF® BAR Family Foundation: Clif Kid Organic Z Bar - https://www.clifbar.com/food/products_clif_kid_zbar
PureFit: Nutritional Information for PureFit Nutrition Bars - https://www.purefit.com/nutrition-info.html
Abbott Laboratories: Pediasure Products - https://pediasure.com/kid-nutrition-products/pediasure-nutrition-drink
Société des Produits Nestlé S.A: Boost® Kids Essentials - https://www.nestle-nutrition.com/Products/Product.aspx?ProductId=e67aaec0-d4b4-4acd-b26a-9c1873e0c9c5