Best Low GI Meal Replacement Bars - Try These Healthy Low GI foods for Losing Weight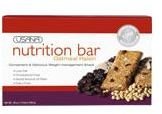 What are Low GI Meal Replacement Bars?
The Glycemic Index (GI) of a food indicates how fast and how high it can raise the blood sugar level in your body. Low GI means that the consumption of the food will lead to moderate increase in the blood sugar levels. Generally, foods high in fiber and/or protein are low GI foods. High GI, on the other hand, means that eating the food will cause your blood sugar levels to rise higher than the optimal level. For example, all foods that are white are high GI foods.
So, basically, GI plays an important role in controlling blood sugar levels. It is an important thing to watch out if you want to prevent high cholesterol levels, cancers, type 2 diabetes, heart disease, and also if you want to lose weight. A food with a glycemic index of 55 or less is considered to be a low GI food, whereas, a glycemic index of 70 or more means that it is a high GI food.
Although you can choose low GI foods such as oatmeal and grapefruits as a regular part of your diet, it does become difficult to find such foods when you are on the go or in the office, with no idea of what is healthy for you. Low GI meal replacement bars come in handy for such people. These healthy snack bars can be easily carried in your purse and eaten whenever you feel the urge to nibble on something.
Let's have a look at some of the healthiest low GI snack bars available in the market these days.
USANA's Nutrition Bars
USANA has a range of healthy snack bars that are low GI foods and perfect for people trying to lose weight. Its peanut butter nutrition bar has a GI of 30±4 and contains 10g of protein and 2g of fiber. It is low on calories and low on fat too.
The Chocolate Fusion Nutrition Bar has 12g of protein and 3g of fiber and has a GI of 32±4.
And if you have no time to eat a bowl of oatmeal, try their oatmeal raisin nutrition bar that also has a low GI of 45±4 with 10g protein and 3g of fiber.
USANA's nutrition bars are either very low on cholesterol or are completely cholesterol-free. These meal replacement bars are also low on fats and contain no trans fat. They also provide you with calcium and iron.
Pure Protein® Nutrition Bars
Pure Protein® nutrition bars are one of the healthiest meal replacement bars with a low GI index. For example, its Chewy Chocolate Chip bar has a GI of 30±4. The Chocolate Deluxe flavor has a GI of 38±4 and the Strawberry Shortcake 43±4.
Although these protein bars are not high in fibers, they provide around 20g proteins. Sugar is only around 2-3g and these are also cholesterol-free. Ideal for those who have an active lifestyle and those who are looking to build some lean muscle, these protein bars are also high in calcium, niacin, vitamins A, C and E, folic acid, and minerals such as zinc.
Cinch® Meal-In-A-Bar
Shaklee Corporation has been providing nutritional products to people in the US for the last 50 years and has one of the healthiest low GI snack bars available. Its Cinch® meal-in-bar is available in two flavors: Blueberry Almond Crisp and Peanut Butter Chocolate Chip.
Both these bars are low GI foods and high in protein as well as in fibers. The protein content is around 20g whereas the fiber content is around 6g. It contains around 19g sugar with zero cholesterol and zero trans fat. It also delivers 35% or more of 21 essential vitamins and minerals including calcium, zinc, and vitamins A, C, D and E. These meal replacement bars make you feel fuller for longer, preserve muscle mass, and help you lose weight the healthy way.
Slim-Fast Meal Replacement Bars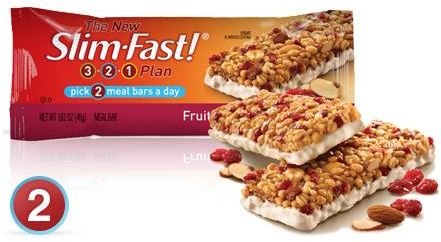 The Slim-Fast meal bars are available as part of their 3-2-1 plan of losing weight. Whether you choose the chewy chocolate crisp meal bar or the sweet & salty chocolate almond bar or the fruit and yogurt trail mix bar, you can be reassured that you will be consuming a low GI food.
These low GI bars are also nutritious and contain around 8g of proteins and 5g of dietary fiber. They also provide around 20% of the daily value of around 15 essential vitamins and minerals including calcium, iron, and vitamins A, D and E.
How to Choose a Low GI Meal Bar?
If you don't know the glycemic index of a meal bar, it can be difficult to decide which one is right for you. In general, while looking for a low GI meal replacement bar, make sure that it is high in proteins and fibers. This is because proteins and fibers take longer to digest, which translates into a slower increase in the blood sugar levels after meals. A healthy meal replacement bar should be low in fats and cholesterol. Ideally, the best meal bars should also contain some amount of the daily value of the essential minerals and vitamins.
References
World's Healthiest Foods: What is the Glycemic Index? - https://www.whfoods.com/genpage.php?tname=faq&dbid=32#estimate
Gilisting.com - https://www.gilisting.com/2004/05/glycemic-index-meal-replacement.html
Wiebach.us: Glycemic index (GI) and glycemic load (GL) values determined in subjects with normal glucose tolerance. (2008) - https://wiebach.us/Health-Glycemic/Glycemic-4.htm
USANA Health Sciences - https://shop.usana.com/shop/cart/Categories?parentCat=1
Pure Protein - https://www.pureprotein.net/category/BARS/
Shaklee Corporation - https://www.shaklee.com/category.php?main_cat=weightmanagement&sub_cat=MealBar&type=sub
Slim-Fast: Meal Bars - https://www.slim-fast.com/products/mealbar/w/wiki/Fruit-amp-Yogurt-Trail-Mix-Meal-Bar.aspx?ProductID=20
Image Credit:
USANA Health Sciences: Oatmeal Nutrition Bar - https://shop.usana.com/shop/cart/ProductDetails?ProductID=232.010101
Shaklee Corporation: Cinch® Blueberry Almond Crisp Meal-In-A-Bar - https://www.shaklee.com/products.php?sku=21227
Slim-Fast: Fruit & Yogurt Trail Mix Meal Bar - https://www.slim-fast.com/products/mealbar/w/wiki/Fruit-amp-Yogurt-Trail-Mix-Meal-Bar.aspx?ProductID=20