How to Roast Potatoes the Healthy Way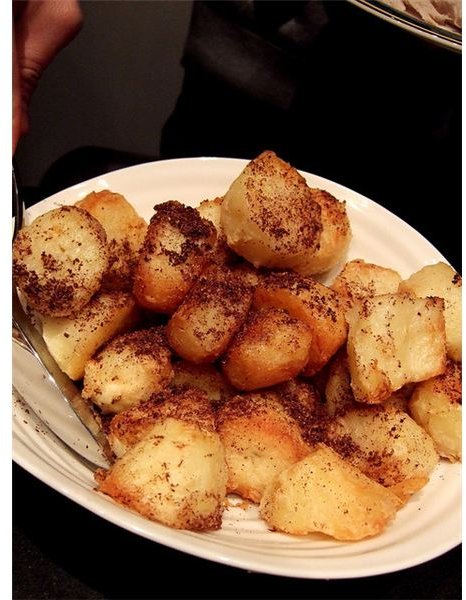 Roast Potatoes: The Facts
The perfect roast potato should be golden and crispy on the outside, soft and fluffy in the middle and it should taste good. The two biggest factors in how your potatoes turn out are the type of potato and the fat you use to cook it in.
A potato weighing 122g (1 cup) that is baked with no added oil contains roughly 133 calories. By themselves, potatoes are low in calories, low in fat and contain no cholesterol. They are also considered a very good source of vitamin C, and provide a good source of vitamin B6, copper, potassium, manganese and dietary fiber. The key in learning how to make healthy roast potatoes then, is in the choice of fat for roasting.
How to Make Healthy Roast Potatoes
The obvious way to make a roast potato more healthy is by using the right type of fat for roasting them in. Using an oil with a high smoking point is an important consideration for roasting potatoes. As a general rule, the more refined the oil, the higher the smoking point. Oils that are healthier and retain a high smoking point are:
Virgin olive oil
Light olive oil
Extra light olive oil
Refined nut oils
Sunflower oil
Using a refined version of olive oil, such as extra light, means that although the refining process alters the smoke point and taste, it still retains the same nutritional benefits as regular olive oil, which make it an ideal choice for potato roasting. At 120 calories in one tablespoon, extra light olive oil is a healthy choice.
Other Ways of Making Your Roast Potatoes Crispy
Of course fat isn't the only way to make the outside of your roast potatoes crispy; keeping the skin on when roasting will not only make for a crispy roast potato, it will also provide more dietary fiber than a peeled roasted potato.
Try to rough up the edges of your potatoes before you put them in the oil to roast. By par-boiling your potatoes for five to six minutes, draining off the water and then shaking them in a saute pan with the lid on, you cause more irregular surfaces on the potatoes making them crispier than smooth-cut ones.
You can also add a dusting of polenta or semolina, which adds a crust to the potatoes that will crisp up beautifully when roasted.
Learning how to roast potatoes the healthy way is about choosing a healthier oil, using less of it and preparing the potatoes the proper way.
Resources & Image Credits
Roast potatoes - David Loong: https://flic.kr/p/4pMPa1
https://www.hsph.harvard.edu/nutritionsource/what-should-you-eat/fats-and-cholesterol/
https://www.fatsecret.com/calories-nutrition/usda/duck-fat
https://www.lovepotatoes.co.uk/king-edward/
https://whfoods.org/genpage.php?tname=foodspice&dbid=48#nutritionalprofile
https://www.cookingforengineers.com/article/50/Smoke-Points-of-Various-Fats
https://www.ag.ohio-state.edu/~news/files/chowoliveoildiet.pdf
Nigella Christmas, Nigella Lawson, Chatto & Windus, 2008