Easy Recipe: How to Cook a Turkey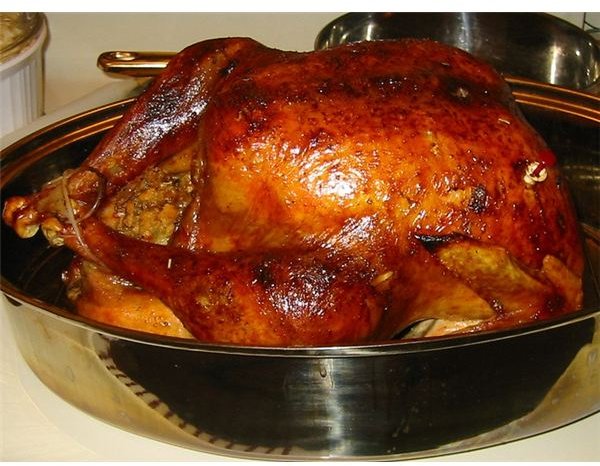 Though some people reserve turkey for their holiday meals, it is fast becoming a favorite entrée for other occasions. Preparing a turkey is simple, but ruining one will definitely make any special dinner go sour. Remember our moms or grandmothers waking up at 6:00 a.m. to put the bird in the oven, followed by hours of basting and checking the meat's temperature? After a lot of hard work and hours of cooking, a succulent, golden brown turkey emerges, juicy in the inside and crispy on the outside – perfect! So, do you want to learn how to cook a turkey that you can easily master? Here are some tips and ideas that you might find helpful.
Fresh or Frozen Turkey?
Like many other foods, fresh turkey is the best choice. It is more expensive and more readily available during the holiday season, but is well worth it. Frozen turkey is fine for everyday cooking, though fresh is a tad better. If you can't find fresh turkey in your neighborhood, go for the frozen ones, especially if they're on sale. If you decide to stock up on turkey, make sure you mark the bird with date of purchase to know which one to cook first. Follow proper thawing instructions found in the package.
How Big?
If you are cooking for your family who will be there to help you finish the leftovers, allocate 1 pound per adult and 1/2 pound per child (raw weight). This will leave you with plenty of turkey meat leftovers for salads and sandwiches. Refrigerate leftovers promptly after dinner, and consume them in the next two days. For longer storage, freeze leftovers in suitable freezer packaging. If you don't want any leftovers, plan on 1/2 pound per adult and child.
Stuffing a Turkey
If and how you stuff your turkey is a matter of preference and tradition. If you choose to stuff the turkey, stuff it right before it goes into the oven. Do not stuff it the night before, although you can prepare the ingredients then, such as cutting and cooking whatever needs to be done. Remove the giblets, rinse it thoroughly inside and outside and dry the turkey before stuffing it. Allow 1/2 to 3/4 cup stuffing per turkey pound.
*For those who are watching their weight – remember that stuffing will absorb the fats, so eating the stuffing is like eating all those unwanted fats. It might be a better idea to cook your stuffing separately in a casserole and serve it as a side dish to your turkey.
Preparing the Turkey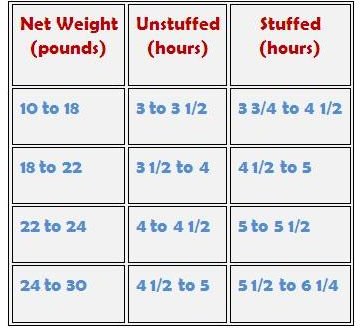 Stuffed or unstuffed, place the turkey on a large rack in a shallow roasting pan, breast side up. Brush the turkey with oil or melted butter to achieve its golden brown hue and prevent dry skin.Sprinkle with salt, pepper and any other herbs as desired, such as rosemary.
Cover the turkey with a loose tin foil tent to prevent it from browning too much too quickly.Preheat oven as the recipe indicates.
Place the turkey in the oven with the legs facing the oven door. Cook, basting every 30 minutes with the juices that have accumulated in the bottom of the pan. Remove the tin foil for the last 30 minutes of cooking, and turn the turkey so legs are facing the back of the oven.
Test the doneness of the turkey by sticking a meat thermometer in the thigh, being careful not to let it touch any bone. The turkey is done when the thigh reaches 180 degrees F, and the stuffing reaches 160F. When stabbed with fork, the thigh area should emit clear juice and not reddish pink. Reduce the total cooking time for unstuffed turkeys.
*Open image for standard cooking time.
Roast Turkey with Lemon, Orange and Fresh Ginger
(Makes 8 servings with leftovers)
1 11-pound (5280 g) turkey
1 lemon
grated zest of 1 whole navel orange
grated zest of 1 whole lemon
3 tbsp canola oil
1/3 cup fresh orange juice
2 tbsp fresh lemon juice
3 tbsp grated fresh ginger
1 tbsp light brown sugar
2 cloves garlic
freshly ground pepper
Preheat oven to 425F (220C)

Cut the lemon and rub the turkey, inside and outside. Discard the lemon.

In a bowl, mix zests of orange and lemon, oil, orange juice, lemon juice, grated ginger and brown sugar. This will be the sauce for basting.

Brush the turkey with basting sauce then bake in the oven for 3 - 3 ½ hours.

Baste again with the leftover sauce 2/3rd of the cooking time. Put an aluminum foil tent over your turkey before continuing to roast to avoid burnt skin.

Thigh meat temperature should register 180F (82.2C) on the thermometer.

Transfer cooked turkey to a carving dish and keep warm.
*Serving size (4 ounce / 120g): 193 calories (28% from fat), 6 grams total fat (1.9 grams saturated fat), 33 grams protein, 0 dietary fiber, 0 carbohydrates, 86 mg cholesterol, 79 mg sodium and 338 mg potassium.
There are thousands of turkey recipes out there. This one is healthy and has lower calories, sodium, cholesterol and fats. If you want to learn recipes and explore the world of turkeys more, check out these site: Turkey: The Perfect Protein and Turkey Recipes.
Indulgence with Less Effort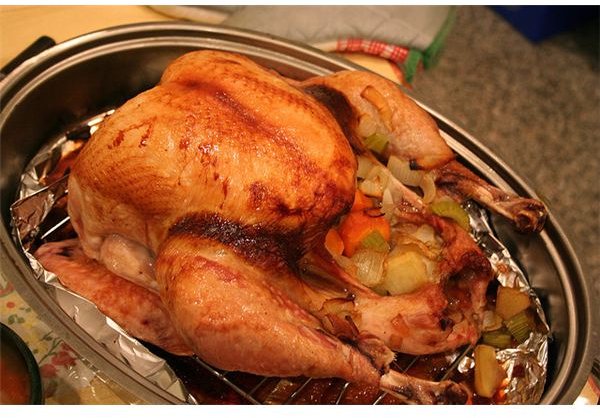 See? It's not as hard as you think. All you need is patience and love for food. You can prepare all the ingredients the night before and place it in your oven hours before the party. You can just leave it cooking with a timer; this will give you time to do other things without the fear of ruining dinner. And it is also not as fattening as you may think. With the right recipe and the proper way of how to cook a turkey, you can have a low-fat turkey centerpiece for Thanksgiving dinner.
Image Credits
References