Product Review of Zamu: The Organic Rainforest Beverage from Amazon Herb Company with Acai, Camu Camu, Cacao & Sangre de Drago - page 1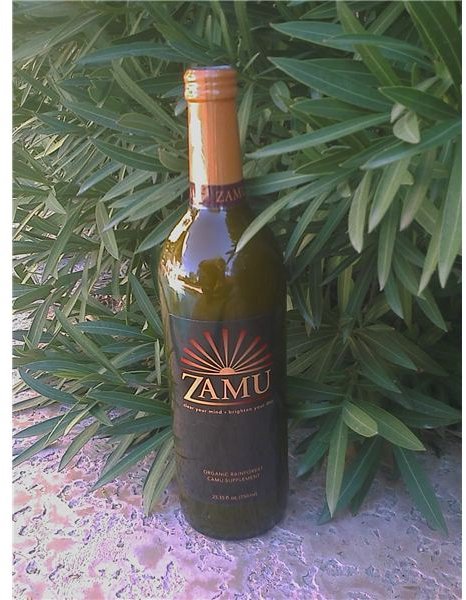 What is Zamu?
Zamu is a new product from the Amazon Herb Company, just released in January 2009. It is an addition in the market to competitors' juice products such as Xango, Monavie, and Zrii. It comes in a 750-ml bottle (like wine), and consists of rainforest herbs and fruit juices.
It is distinguished from its competitors in several ways. The product is certified organic by the USDA, which means it contains at least 95% organic ingredients. It does not contain any chemical preservatives (two of the other three include added sodium benzoate), and has no filler juices, only the 7 ingredients listed in the company literature.
According to the product brochure, Zamu supports a healthy immune system and cardiovascular system, promotes a natural state of well-being, provides beneficial anti-aging compounds, and helps with common joint discomfort. These statements are based on research conducted on the individual ingredients of Zamu and the substances they contain.
The tagline for the product is "Clear Your Mind, Brighten Your Day." Camu Camu is being promoted by the company as the "Exciting Amazon 'Feel Good' Fruit."
The Company (5 out of 5)
Amazon Herb Company was founded by "Amazon John" Easterling, a former Amazon treasure hunter who discovered that the true treasure of the Amazon Rainforest is the plants and herbs with their phytonutrients, and the Rainforest itself, called the "lungs of the planet." He created the company nearly two decades ago, originally distributing products only through physicians. The company then expanded to a network marketing model, and now many holistic practitioners are distributors
The company works in partnership with indigenous communities in the Rio Ucayali region of Peru and in Brazil to sustainably harvest rainforest herbs and fruits. They have successfully obtained title for some of the Shipibo communities to their land, and the titles have stood up in court. Amazon John is now a Board member of the Amazon Center for Environmental Education and Research (ACEER), as is his new wife, Olivia Newton-John.
Amazon John was featured in the 2008 Cousteau documentary "Return to the Amazon." He and the company were recognized as providing a proven model to make the Amazon Rainforest worth more alive than dead. Much of the rainforest is currently being cleared for purposes such as timber, grazing, or soybean planting.
Amazon Herb Company is an absolute standout both among companies for nutritional products and in network marketing. Read the review of Zamu and the Amazon Herb Company by Mike Adams (the "Health Ranger") of naturalnews.com, here.
Learn more about the company's work in the Rainforest here.
Product Quality (5 out of 5)
I definitely give Zamu top marks for product quality. As for all Amazon Herb Company products, all the ingredients are disclosed, although the exact combination is proprietary. So the 7 ingredients listed below are all that you will find in Zamu. There are no filler juices; all the ingredients have been added for their specific benefits in a combination to provide overall nutritional support. No artificial colors or flavors are added, and there are no added preservatives.
Unlike its competitors, Zamu is certified organic. The only ingredient that is not organic is the sangre de drago, which is wildcrafted and sustainably harvested. No pesticides are used, and the company takes extra precautions to ensure that its products are not subjected to radiation when they go through customs to enter the US.
Ingredients
Acai (organic): Acai is a source of antioxidants, and adds a flavor many describe as a cross between cherry and chocolate.
Cacao (organic): Cacao has antioxidant and mood-enhancing properties, and is rich in flavonols.
Camu Camu (organic): Camu camu berry is the highest concentration of naturally occurring vitamin C on the planet. Vitamin C is a powerful antioxidant, and supports immune and cardiovascular health. (Read my articles about the general health benefits of camu camu and benefits for athletes.)
Cinnamon (organic): Cinnamon has shown an ability to stabilize blood sugar and may enhance cognitive function
Mango (organic): Mangoes are a natural source for beta carotene, which improves memory.
Pineapple (organic): Pineapple contains bromelain, which is anti-inflammatory and may help with joint discomfort.
Sangre de Drago (wild-crafted):Sangre de drago, the sap of a rainforest tree, is over 90% pure proanthocyanidins, antioxidants that promote anti-aging processes.
These are the only ingredients in Zamu.
Taste (5 out of 5)
The company created Zamu to fill a market niche, but also wanted to include only ingredients that would provide specific benefits and in a combination that would be tasty as well as healthful.
The first time I tried Zamu I expected a typical tropical taste. In contrast to that it seemed strange and a bit bitter. I was even starting to think I would probably not drink it much after that. But after a few sips I started tasting different aspects, and over the next few days even found myself craving it! I have since been drinking it fairly regularly and really love the taste.
The flavor is certainly unique, very unlike grocery store juices, and definitely different from other popular superfruit drinks. (I happen to love the taste of Monavie, though I choose not to regularly consume beverages with chemical preservatives.)
Certainly the taste is a matter of personal preference, but so far reports indicate that people overwhelmingly enjoy Zamu and its unique flavor. I will definitely continue drinking it and having my friends try it.
Overall Value (4 out of 5)
Certainly the company is outstanding and the product is of highest quality. So the value judgment essentially comes down to one of the product cost. Although a single 750-ml bottle of Zamu has a price tag of $40, a 4-pack can be purchased for $125. (Consumers who have it shipped automatically each month also get free shipping.)
To the typical consumer, this may seem a hefty price for a juice product. However, it is comparable to the pricing for its competitors: Zrii, Monavie and Xango. These products are all selling in large quantities, by companies with much shorter histories than the makers of Zamu. Many natural food stores even offer functional beverages with superfruits like noni, goji, and mangosteen at a $20 price point or higher. So clearly the market is out there for this type of product with its premium pricetag. And in the case of Zamu, the price represents the superior quality of the ingredients and processing.
What about health and wellness benefits? The short-term results of drinking Zamu mirror those reported by consumers of similar products. Many people who have been using Zamu for a while are reporting experiences such as increased energy, improved focus, and even relief from symptoms of some health challenges. Some of these testimonials come from people who are also in business as Amazon Herb Company distributors, others come from more objective individuals who are solely customers.
The product will certainly appeal to consumers who are looking for eco-conscious alternatives to conventionally produced products, and who are willing to pay a premium for products produced in accordance with their values. They will appreciate both that it is organic and sustainably harvested and that the company goes to great lengths to make a positive difference in the world. I would love to see this product at a more affordable price so that more people could enjoy it and reap its benefits. But even at this price it is a superior alternative to its competitors. And it is a great way for people who would not do their own juicing or who do not regularly consume quality supplements to get better nutrition and support their own health.
For anyone looking to improve their nutrition with a tasty, easy to consume product, I highly recommend Zamu. And even more so for people who care about our planet and how we affect it!
Additional Information
Author Heidi Wiesenfelder is a distributor with Amazon Herb Company, mainly working with using the herbs for animals to improve their health and nutrition. She is providing her honest opinion of this product as a consumer. If you already have an Amazon Herb Company representative that you work with, please contact that person to see about trying or ordering Zamu. If you have not yet become a customer, you can order and obtain more information through Heidi's site, or you can visit the corporate site to order without having a specific representative.
These statements have not been evaluated by the Food and Drug Administration. This product is not intended to diagnose, treat, cure or prevent disease. Please read this disclaimer regarding the information you have just read.