Budget Dining for Less than $25 per couple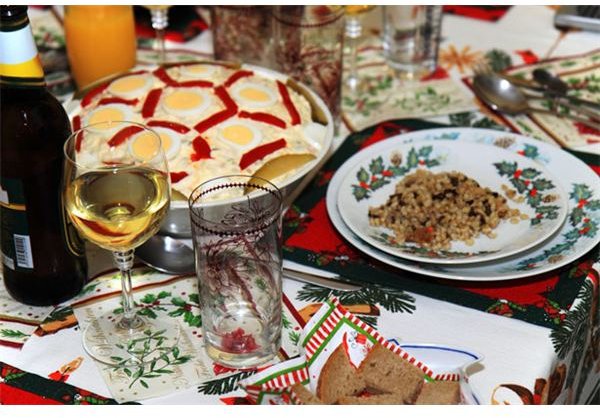 Consider Your Health First
When money is tight, it can be tempting to go for anything that's inexpensive, but budget dining is no bargain if it harms your health. After all, doctor visits aren't cheap. While any healthy diet has room for occasional splurges, there are people who eat away from home many times a week. If you are one of them, it's important that you make healthy choices.
Image Credit: Dining Table/Public Domain Pictures/Petr Kratchhovil
There are tricks to recognizing a restaurant's healthiest options. One is to look for healthy buzzwords that indicate low-fat cooking techniques, such as poached, grilled, and steamed. Another trick is to swap in sides. (Weight, 2009). For example, if the grilled salmon comes with mashed potatoes and gravy, but the spaghetti alfredo comes with steamed broccoli, ask if you can have the grilled salmon with steamed veggies. Restaurants are in the business of providing the kind of food customers want to eat, and will usually be happy to accommodate your wishes.
Look for the Specials
Restaurants got hit hard during the Great Recession, and many started offering unbelievable bargains. An early 2009 article in USA Today pointed out Subway wasn't alone in promoting meals for $5. Many sit-down restaurants did the same, offering salads, soups, and even dinner entrees for that magic $5.00, which is believed by industry experts to be the great deal pricepoint (Horovitz, 2009).
Though $5.00 entrees may no longer be as common at sit-down restaurants, there are still bargains to be had. At the time of this writing, Red Lobster (not usually a destination for the budget-conscious) was offering a choice of two signature shrimp, side salad, and signature bread for $11.99. This special, if ordered by both diners, would bring the total check (before taxes and tip) to $23.98.
Skip the Extras
Restaurants are able to offer special meal deals because they count on their customers spending more money on extras, such as soda pop. Restaurants charge approximately three dollars for a glass of sugar water that costs them about 3 cents. If a party of four decided to stick to water, they would reduce their total bill by $12.00. Also, water is much healthier. One 24-ounce glass of regular cola contains 194 calories. One refill, and the total rises to 388 extra calories.
Another thing to avoid is appetizers. These are often as profitable to restaurants as beverages, but contain even more calories (not to mention fat). Consider, for example, the Chili's Boneless Buffalo Wings, which according to the nutrition information available at www.Chilis.com, weigh in at a hefty 1200 calories and 81 grams of fat. Skipping appetizers will make your meal healthier while also making it cost less, and who can argue with that?
Be Flexible about Your Destination
Even if you have favorite places to eat, tight times are a great incentive for exploring other options. Locally-owned, single-location restaurants are often some of the best choices for budget dining, as these have no corporate overhead (plus you get the satisfaction of knowing your money will stay in your local community).
Another option is to consider less-formal restaurants, which may provide quality food at a fraction of the price charged by white-tablecloth establishments. For example, the salads, soups and sandwiches on the Panera Bread Bakery-Cafe lunch menu are as good as those at Olive Garden, but cost about half as much.
Whether you are looking to save a few dollars or watch your caloric intake, budget dining offers the best of both worlds to saavy consumers.
References
Horovitz, B. (2009, 17 February). TGI Friday's Joins the Bargain Dining $5-a-Meal Club. USA Today. Retrieved 18 May, 2010 from https://www.usatoday.com/money/advertising/adtrack/2009-04-26-tgi-fridays-bargain-meals-ad-track_N.htm
Weight Watchers Staff. (2009). Eat Out and On the Run. Woodbury, NY: Weight Watchers International.