Eating on a Budget - Tips for Traveling Abroad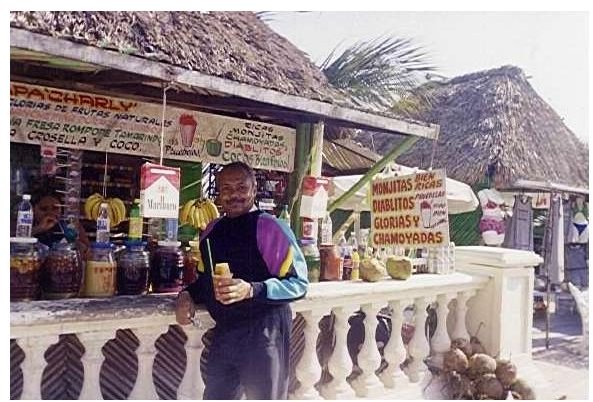 Finding Economical but Healthy Meals While Abroad
With the summer vacation and travel season coming up, how can you find the cheapest or economical but healthy meals when traveling abroad? To help give you a different slant on finding cheap eats abroad, I'll turn to some of my own experiences - like one pictured here at a stand in Veracruz near its world-renown salt-water aquarium - as an on-going resident of Latin America. Since I frequently travel throughout Mexico, Costa Rica, Panama, Colombia and Ecuador, finding safe-to-eat, reasonably priced meals is a regular concern of mine. For the cheapest, tastiest food stay well away from the "tourist" areas, you need to go local all the way. So here are five key tips and "tricks of the trade" for eating on the cheap and staying healthy from a veteran traveler.
(Click on image to enlarge)
1. Eat at Local Fish and Produce Market Food Stands
In almost every city of any size in Latin America from Mexico to Ecuador and Peru, there are markets where local farmers and fishermen come to either sell their wares directly to the public or supply market vendors with fresh produce and fish to sell. Most foreign cities have a major market or two like this where you can get great meals on even the tiniest of budgets. Often there is a central building where this activity is held. In some smaller towns, there may be an outdoor location where market activity occurs, on weekends much of the time. At either type of market facility, there are vendors who sell cooked food or complete meals "comidas" which are cheap, hearty and have food piled on your plate until it's spilling over the sides.
At the main fish market in Veracruz, Mexico you won't even have to search for the rows of food stands on the upper floors of the market, they'll "come to you" via "Garroteros" (their job it is to get you to go into a business or a store) that will engage you on the street to give out a menu listing the daily special "comidas" at the food stand location they work for. They'll be glad to take you upstairs to a table to order a hearty lunch for less than $2 or $3 USD, compared to the $20 or more USD you'll fork over in a "tourist" restaurant.
2. Try Local Specialties
Also in Veracruz you'll hear "¡Güero! ¡Güero! ¡Güera!" around sunset not far from the Malecon coming from "Garroteros" outside of iced-dessert shops called "Neiveras" which offer a frozen water and milk dessert with tropical fruit flavors like: Mamey, Cacahuete, Nanche, Jobo, Maracuya and Guanabana, to name a few. Hey, if you aren't familiar with these fruits, this is your opportunity to broaden your taste bud horizons. One of the most interesting aspects of traveling abroad is tasting new and different foods. This is one of the reasons you're traveling abroad, isn't it?
Regional foods to try in Mexico:
·Elote: a skewered corn-on-the-cob with chili powder, lime juice, warm mayonnaise and coarse sea salt sprinkled over it
·Squites (at times spelled Esquites): loose kernels of corn spiced up similar to "Elote"
· "Vuelve a la vida": a seviche-type combination of fresh shrimp, chopped octopus, thin-sliced conch, and crab meat combined with a spicy Veracruz specialty sauce, fresh-squeezed lime juice, minced cilantro leaves and served in a cocktail dish. It's priced at $1.50, $2.50 or $5.00 USD for small, medium or large servings.
· "Diablito": This is popular "hangover cure" cocktail of tamarind, chile, salt and lemon is such a jolt to your senses, you'll no longer wonder about the name.
Please continue on to page two.
3. Combine Foods from Several Sources to Compile a Filling, Budget-priced Meal
You can pick up a couple of meal components like beverages, breads, fruit, etc. from a local supermarket and combine them with a piping hot, freshly-cooked entrée and veggies or dessert from nearby food stands to avoid ultra-high prices for "complete" but pricey meals. If you eat a heavy lunch, which is typical of most of Latin America, you'll often save more than half the cost of a meal since lunchtime menus are much cheaper than dinner offerings.
For those who are carefully eyeing their limited funds although wishing to eat first-hand original, tasty regional dishes, one delicious possibility is to sample a regional type comida at one of the several standing-room-only, privately-run local meal stations in the city's largest produce market, that offer an over-sized Oaxaceña comida and beverage costing around $3.00 USD. Food stand operators are enthusiastically willing to detail the meal options offered each day (in Spanish only). Yes, it pays dividends to learn even a few key phrases of the local language in order to be able to deal with market vendors and locals around town. You simply must order a regionally-brewed beverage of spiced, fermented rice referred to as "Ochata". Oatmeal-textured, creamy-smooth, a bit sweet, and inexpensive, it's tasty, refreshing option you shouldn't miss.
4. Dining on Roasts and Barbeque
An added option for a cheap, filling comida is from "Rosticentros" or open-air barbeque-style locations that offer a whole roast chicken with lettuce and tomato salad, baked and salted potato, freshly-made salsa, and, in Mexico obviously, a tall pile of freshly-toasted corn tortillas (or in other Latin American countries, "arepas" – a kind of flat, grilled bread) enough for two hungry travelers, at the budget-friendly price sum of about $4.50 – yes, you read it correctly, dinner for two for a mere four and a half dollars! Even now, it's tough to imagine how these places turn a profit selling at these prices. Obviously they must make money out of it though, since these places are often jam-packed all day until the wee hours. There are "rosticentros" in many neighborhoods of most Latin American cities, but the safer places to eat are usually in the market or shopping districts. Make sure to pick one that's busy and loaded with eating customers. Keep an eye out for billowing grill smoke or let the irresistible aroma lead you to one. In some countries they're called "parrilladas". First buy your preferred beverage from a nearby store or "tienda" for around 60 cents, then go for your roast, salad and tortillas at the "rosticentro" or "parrillada". Many places even sport a small table and chairs so you can sit and sup at your leisure. Remember, food MUST be piping hot and freshly-cooked or Monteczuma will have his revenge! Don't let food poisoning spoil your travel abroad.
5. Eat Only Hot, Freshly-Cooked Foods
There is some controversy among veteran travelers as to whether or not "street food" is safe and healthy to eat. Often it's cheap and many times even tasty, but you must be careful. It's a far better bet to dine at places where food is piping-hot, freshly-cooked and the establishment will be in the same location tomorrow, the next day and the next. This fruit vendor on wheels is a bad bet for the budget traveler. With "wandering" vendors, they've got nothing to lose by farming off bad, unclean or poorly-cooked food to you. The odds are you will never see each other again and they know that. You can never be sure how "hygienically" the food or fruits were prepared. You don't want to find out the "hard way" either. Salmonella, Giardia and a host of other "little microscopic beasties" know no national, language or geographic boundaries so you can become seriously ill from food poisoning virtually anywhere in the world. Personally, I've been violently ill from "tainted" food and fruit in the Colombian Andes, the Mediterranean coast of Spain and the Atlantic coast of the USA. The locations were beautiful. The experience of being sick in them was not. Remember too, drink only bottled water (or water you boil yourself) and DO NOT, I repeat, DO NOT get ice in your drinks – I don't care how hot it is outside.