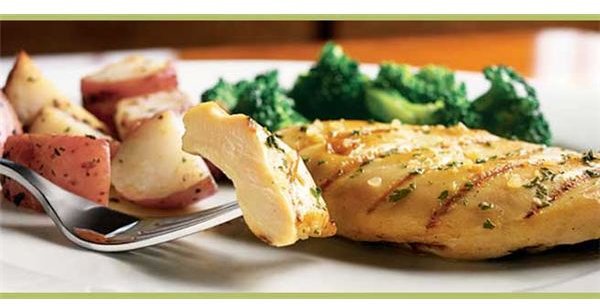 For most people, a 500 calorie diet isn't healthy, nor recommended, but some choose to go on it anyway, for the short term, to eliminate excess weight and fat.If you do plan to do this, consider the pros and cons.
The Pros of a 500 Calorie Diet
Obviously, eating less calories helps you drop weight quickly. Another benefit of eating less calories is having less to pack for breakfasts and lunches for work. You can save time and money on meal plans. Also, there is an emotional high that comes from eating less. Your self-esteem will be strengthened by your commitment to stick to this diet. You will feel more disciplined and motivated with each day's success.
The Cons of a 500 Calorie Diet
Basically a 500 calorie diet is not recommended. In fact, it's best to check with your doctor before going on such an extreme diet. Most health professionals say you can lose weight on a 1,200 to 1,800 calorie diet and that 500 calories a day isn't the way to go, but if you do decide to eat less than 1,200 calories, be sure to carefully consider how you're feeling physically. Some people report not having much energy. This makes sense as calories (of the right kind) help build the body's strength. Another reason a 500 calorie diet isn't the best way to go is because you will feel hungry all the time. The most important reason to be very careful on such a diet is because your body's organs will lose protein.
Some people consider this diet as starving oneself, which is never a good idea. Many are also adding a hormone to the 500 calorie diet, known as HCG, human chorionic gonadotrophin. "Human chorionic gonadotrophin (HCG) is a hormone found in the urine of pregnant women. More than 50 years ago, Dr. Albert T. Simeons, a British-born physician, contended that HCG injections would enable dieters to subsist comfortably on a 500-calorie-a-day diet. He claimed that HCG would mobilize stored fat; suppress appetite; and redistribute fat from the waist, hips, and thighs [1]. There is no scientific evidence to support these claims [2-13]. Moreover, a 500-calorie (semi-starvation) diet is likely to result in loss of protein from vital organs, and HCG can cause other adverse effects." https://www.dietscam.org/reports/hcg.shtml
An Alternative to the 500 Calorie Diet
After reading about the cons associated with the 500 calorie diet, hopefully you will consider an alternative. Perhaps just lowering your calorie intake to a moderate instead of extreme level will help. Also, just be aware that when eating out, you CAN find restaurants that have decent, healthy low-calorie entrées on their menus. These entrées can help you eat less and get the proper nutrition, too. Below we will look at one restaurant that has great choices for under 500 calories.
Is Eating out Possible on a 500 calorie diet?
The answer is yes, it is possible to have a healthy meal that's filling and less than 500 calories. For example, Applebee's has a Weight Watchers menu that includes delicious entrees that are carefully planned to satisfy and nourish the body. They have seven choices to select from (plus, one dessert) each prepared with wonderful herbs, spices and a load of healthy vegetables as sides.
Let's take a look at these Weight Watcher's menu specials and their total calories per meal.
Garlic Herb Chicken (370 calories/6g fat/7g fiber)
This is one of my husband's favorite. The dish comes with seasoned grilled chicken breast served in a garlic herb sauce and coupled with steamed herb potatoes and broccoli; only 370 calories.
Onion Soup au Gratin (150 calories/8g fat/1g fiber)
If you want less calories because breakfast was your main meal or dinner will be, the classic beef broth Onion Soup au Gratin comes loaded with caramelized onions. It is then topped with a croûton and reduced-fat cheese; only 150 calories.
Grilled Chili-Lime Chicken Salad (250 calories/6g fat/6g fiber)
This is one of their new menu items. It's a grilled chicken breast on top a bed of fresh spinach, tossed with red onions, roasted red peppers, sliced fresh mushrooms and reduced-fat cheddar and mozzarella cheeses. It is then served with a chili-lime vinaigrette dressing; only 250 calories.
Steak & Portobellos (330 Calories/G fat/G fiber)
If you enjoy meat and potatoes, the Steak & Portobello dish is delicious and includes a flame-grilled sirloin steak. It is fixed to your specifications and comes topped with sliced, sautéed portobello mushrooms and a savory brown sauce. You'll enjoy some tasty steamed herb potatoes and broccoli on the side; 330 calories.
Cajun Lime Tilapia (310 calories/6g fat/9g fiber)
This is one of my favorites. It's the grilled Cajun-seasoned tilapia fillet flavored with lime juice and topped with a nice array of black bean & corn salsa. It comes on a bed of rice pilaf with a side of broccoli. I love this dish! Only 310 calories.
Tortilla Chicken Melt (480 calories/13g fat/6g fiber)
This dish is perfect if you're craving Mexican food. The tender chipolte-roasted chicken comes with reduced-fat mozzarella and cheddar cheeses, broccoli, mushrooms, carrots, corn, red peppers and red onions, all grilled within a wheat tortilla and topped with non-fat cilantro ranch dressing. It comes with a delicious red salsa; only 480 calories…note, you only get 20 more calories in the day if you're sticking to a 500 calorie diet!
Italian Chicken & Portobello Sandwich (360 calories/6g fat/11g fiber)
This is another one of my husband's favorite Weight Watcher's specials. It is a grilled, marinated chicken breast topped with sliced portobello mushrooms, a slice of tomato and chunky marinara sauce. It is served on a wheat bun along with fresh fruit. If you crave bread, this might hit the spot with only 360 calories.
Chocolate Raspberry Layer Cake (230 calories/3g fat/3 g fiber)
Need dessert? This scrumptious chocolate dessert is covered in a light cream cheese glaze and drizzled with raspberry sauce. It really satisfies your need for a sweet.
If you plan it right, you can enjoy a piece of fruit for breakfast with a slice of bread, depending on the calorie intake and a yogurt, almonds and fruit or vegetables for dinner.
A 500 calorie diet is possible if you plan it well, but remember doctors do not recommend such a low intake calorie diet. It's best to eat between 1,200 and 1,800 on a diet. There are some great and healthy choices available from partipating restaurants that include the Weight Watcher's point system on their menus. Here's a good link with menu points: https://www.healthdiscovery.net/restaurants/index.html.