Massage therapists perform massage on people for a variety of reasons from relaxation to back pain to post surgical rehabilitation. Massage therapists can choose to work for themselves or for hospitals or clinics. How much money a massage therapist makes depends on a variety of factors, such as geographic location, amount of experience, place of employment, and a few smaller factors.
Nature of the Work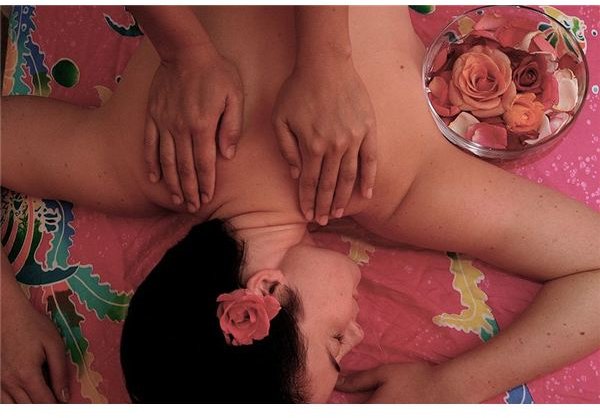 Massage therapists provide massage to their customers for remedial and therapeutic reasons. They use massage oil or lotion on the clients skin and then they rub, knead, and stroke the flesh. Massage helps to relax tight muscles, stimulate blood circulation, and reduce stress.
Massage Therapist Education
Massage therapists will need to be formally trained through a massage therapy program. These programs can be found at vocational schools, community colleges, hospitals, and major colleges and universities. Most programs take approximately six to twelve months to complete. Students will take a variety of classes including the theory of massage, the practice of massage, professional ethics, anatomy, pathology, public health, physiology, and hygiene.
Getting the Job
Massage therapy is a growing and evolving field so there are many employment opportunities for those who are qualified. It is important to remember that many places of employment will require the massage therapists they hire to be certified or licensed, but most prefer, and often require, their massage therapists to be licensed. Aspiring therapists can contact the career placement department at their school (most higher education institutions have these), contact places that hire massage therapists directly, or they can check out internet and print classified ads and job boards.
Massage Therapist Work Environment
Massage therapists work in a variety of places. They can be employed by country clubs, health clubs, retail centers, resorts, spas, and community service associations. Some massage therapists are self-employed and either have their own massage clinic or they travel to where their customers are to give massages. Some are hired by businesses, for a day or two, to provide overworked employees with short massages throughout the work day.
How Much Money Does a Massage Therapist Make?
Many factors play a role in how much money a massage therapist makes. Those with less than one year of experience can earn a median annual salary of $15,000.00 to $20,000.00. Those with five to nine years of experience can earn a median annual salary of approximately $40,000.00. Those with fifteen years of experience can earn a median annual salary of approximately $55,000.00. Those with twenty years of experience or more can earn a median annual salary of $70,000.00 or more.
Geographic location also plays a role. Those working in Los Angeles, Las Vegas, Chicago, San Diego, Austin, San Jose, or Mount Pleasant often make more than those working in other United States' cities. The states with the highest median annual salaries include California, Texas, Michigan, Pennsylvania, Illinois, Ohio, and New Jersey. These cities and states also have the most employment opportunities.
Career Outlook
Employment opportunities in this field are expected to increase faster than average. Between 2008 and 2018, employment for those in this field is expected to increase by nineteen percent.
Resources
PayScale. (2010). Massage Therapist. Retrieved on February 25, 2010 from PayScale: https://www.payscale.com/research/US/Job=Massage_Therapist/Hourly_Rate
Bureau of Labor Statistics. (2010). Massage Therapists. Retrieved on February 25, 2010 from the Bureau of Labor Statistics: https://www.bls.gov/oco/ocos295.htm
Image Credits
Woman Being Massaged: Rama Day Spa Frankfurt – Wikimedia Commons
Disclaimer
Please read this disclaimer regarding the information contained within this article.