Why Use Tofu?
Tofu is a versatile ingredient that can be prepared in several ways. Depending on the recipe and what type of tofu you use are the two main components that will dictate how you prepare this plant based food source.
While some have a taste for tofu alone, others use tofu as main dishes and as animal meat and dairy replacements. In any recipe you choose, there really is no way to go wrong when cooking with tofu.
Here we are going to take a look at the two main ways to prepare tofu with some sample recipes that you can try out for yourself.
Deep Frying Tofu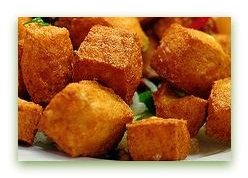 In order to deep fry tofu, you want to use the soft type of tofu. Soft tofu has the consistency of a soft cheese and responds well when using the deep frying method to cook it.
First, you'll want to rinse the tofu well and then cut it up into blocks of the size you want. Then take the blocks and lay them out on paper towels to let the excess water drain.
Once you drain off the excess moisture, take the blocks and place them into your heated pan of oil. The best oil to use in this instance is canola oil and it should be heated on the medium-high setting.
Fry the tofu until each block is a golden color on one side, then flip them over until the other side also becomes golden in color. Take the tofu blocks out, drain the excess oil by placing them on more paper towels and you're done.
Deep fried tofu is normally eaten as is, using a selection of dipping sauces. A popular dipping sauce to try is a soy and ginger sauce, which can be made from the following recipe:
2 tablespoons soy sauce, preferably lower-sodium

2 tablespoons toasted sesame oil

1 tablespoon rice wine vinegar

2 tablespoons finely chopped green onions

1 small garlic clove, minced

1/4 teaspoon grated fresh ginger
Combine all ingredients in a small bowl and whisk together. Pour mixture into smaller bowls and dip in your tofu squares to taste.
Baked Tofu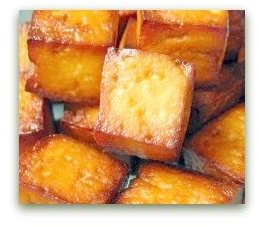 Baking tofu is a good way to use it, as an add in for other recipes and as a meat replacement. For baking you want to use firm tofu that has a denser consistency than that of the soft tofu.
First thing to do is rinse the tofu and drain off the excess moisture. Then cut up your tofu to the desired block size.
Next, pre-heat the oven at 375 degrees and pull out a non-stick baking sheet. Once the oven is heated, place the tofu a few inches apart on the baking sheet and place into the oven. Bake for 40 minutes, turning the tofu twice during the process when the face up side becomes brown.
Recipe ideas for using baked tofu are numerous and some people prefer to eat the baked variety just like the deep fried version, with sauce. Here is a dipping sauce recipe that is well suited to baked tofu:
1 teaspoon grated lemon zest

3 tablespoons fresh lemon juice

2 teaspoons Dijon mustard

1/2 teaspoon pepper

1/4 teaspoon salt
Combine all ingredients and blend with a food processor. Pour into dipping bowls and enjoy!
References
Leah Leneman, The Tofu Cookbook, New Edition: Over 150 Quick and Easy Recipes, Thorsons, 1998.
Images provided by writer, edited through Picnik