Teach Music to Kids with PDD: How Does it Help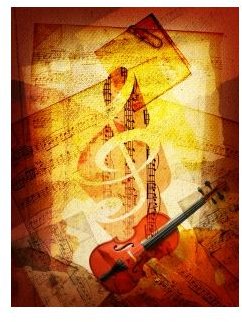 Music as Therapy
Aside from the benefits when you teach music to kids with PDD, music itself is a beneficial therapy tool for all kids on the autism spectrum. Being a nonverbal medium, music provides a low-pressure method for a child to express him or herself through dance or simply enjoying a particular piece of favorite music. A familiar or soft piece of music can be a calming force during anxious situations. Upbeat music can encourage the child to move and improve coordination, balance, and other sensorimotor skills.
For children who are not verbal, music provides a way to communicate their emotions and moods. When a child does not have the vocabulary to express, much less identify their feelings, music can provide a way from them to portray their mood in a way that has meaning for parents, therapists, and teachers. An upset child, for example can play intense, emotion-filled music as a way to communicate how they feel.
Teaching Music
It takes time and patience to teach music to kids with PDD. These children often do not progress through lessons as quickly or in the same way as other children. They may need more time to work out solutions or overcome barriers before they are comfortable enough to try something new musically. However, the benefits of such lessons are well documented by music teachers, parents, and therapeutic specialists.
Learning how to play an instrument close to the face, such as a flute, violin, or reed instrument helps encourage eye contact. Watching a music instructor for cues also helps focus attention and increase nonverbal social interactions. Studies have also shown that music instruction helps kids on the autism spectrum learn about and identify their emotions.
Parallel music play helps reinforce positive behavior patterns like reciprocal social interactions. The use of musical notes and vocal mimicry helps develop speech, both in children with articulation difficulties as well as completely nonverbal children. Likewise, music instructors working in tandem with speech therapists have helped autistic children with monotonic speech by working first with singing.
Research Continues
Researchers at UCLA, as part of a collaboration between the UCLA Tennenbaum Center for the Biology of Creativity and the UCLA Autism Research Alliance began a study in 2009 that seeks to document the effects of their effort to teach music to kids with PDD. Autistic children at the Village Glen School are learning music through a method known as the Orff-Schulwerk approach.
Rather than strict instruction, children are taught to use their natural tendencies to sing, rhyme, keep a beat on a toy, or dance. It is considered an elemental and basic approach to music instruction. Researchers hope that by learning to express themselves through music and rhythmic moving, these children will eventually progress to better recognition of their own emotions. The study will measure the effects on social communication, as well as each child's understanding of their own emotions.
The UCLA project is not the only study concerning the benefits of teaching music to kids with PDD. Rather, it is merely one example of many such projects. Regardless of research outcomes, nearly all children, challenged or not, benefit from exposure to musical instruction. Kids with PDD may have higher sensitivity to certain types, volumes, or styles of music, but nearly every child has some kind of music they enjoy that improves their overall quality of life.
References and Resources
Autism Research Institute, Education: Music Therapy and Language https://www.autism.com/edu_music_therapy.asp
Music for Music Teachers, Teaching Children with Autism https://www.music-for-music-teachers.com/autism.html
Science Daily, The Sounds of Learning https://www.sciencedaily.com/releases/2009/07/090720220414.htm
Image courtesy of Billy Alexander, stock.xchng https://www.sxc.hu/photo/1298069