Chipotle Salad Calories & Nutrition: How Healthy are Salads at Chipotle Mexican Grill?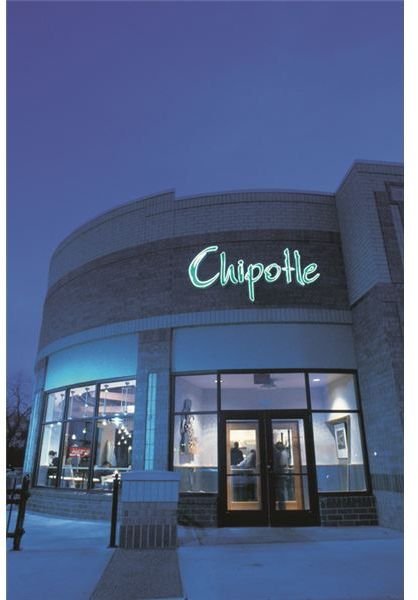 For those watching carbs or calories, salads are a go-to menu item in any restaurant. When ordering a Chipotle salad, calories might seem at first glance to not be a problem; how bad can lettuce, beans, meat and veggies be?
The answer is "not too bad," as long as you watch the dressing. Chipotle Mexican Grill's house dressing, Chipotle-honey vinaigrette, adds 260 calories to every salad order. While the dressing does have a nutritional benefit — fat facilitates nutritional absorption from vegetables — it's a bit much. Try asking for the dressing on the side and using half of what's provided.
Here are the calories and nutritional information for some popular Chipotle salad combinations.
Chicken Salad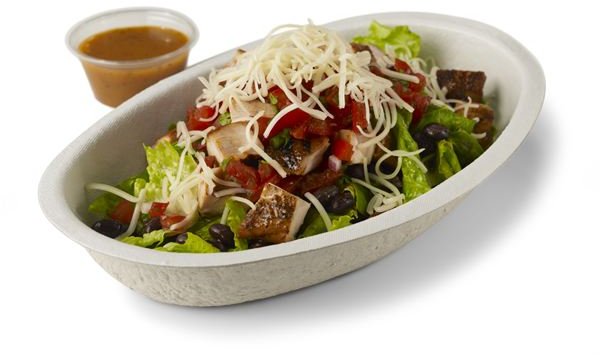 A chicken salad at Chipotle with black beans, lettuce, tomato salsa, corn salsa, and cheese will run 630 calories. A big chunk of that is from the 260-calorie Chipotle-honey vinaigrette. On the bright side, this salad supplies over 100% of the RDA for both vitamin A and C, 25% calcium, and 10% iron. It has 40g of fat, 38g of carbs, and 31g of protein.
Vegetarian Salad
Going vegetarian doesn't save on the calories if you still add high-fat and high-calorie extras. A Chipotle vegetarian salad with black beans, guacamole, tomato salsa, green tomatillo salsa, lettuce, and Chipotle-honey vinaigrette comes to 595 calories. Like the chicken salad, it provides full daily doses of vitamins A and C. It also has 40g of fat, 55g of carbs, 22g of fiber, and 12g of protein.
Carnitas Salad
Let's try a carnitas (pork) salad without dressing. Add pinto beans, lettuce, tomato, corn salsa, green tomatillo salsa, and sour cream and you've got a salad for 475 calories. This carnitas salad has 117% of the RDA for vitamin A, 62% of vitamin C, and even 26% iron. Watch the sodium with this one, though: one salad has 2125mg of sodium. Since it's missing the dressing, fat is only 23g, carbs 53g, and protein is a whopping 42g.
Barbacoa Salad
Make a barbacoa salad with black beans, lettuce, corn salsa, tomato salsa, cheese and dressing, and it comes to 755 calories. Like the carnitas, it's high in sodium as well: 2520mg worth. Because of the dressing, barbacoa salad has 43g of fat. It also provides 56g of carbs and 43g of protein.
Steak Salad
How about a fajita-style salad? Take a steak salad, add lettuce, fajita vegetables, corn salsa, and red salsa, skip the dressing, and it comes to 585 calories. It's got 36g of fat, only 17g of carbs, 10g of fiber, and 42g of protein.
How Bad Are Salads, Really?
These salads provide about half of the average adult's daily protein needs, all or nearly all the vitamin A and C required, and good amounts of iron and fiber. Skip the beans and lower the carbs substantially; skip the dressing to cut lots of calories and fat. Remember that Chipotle offers several flavorful salsas, and any of these can make a fine salad dressing all on its own. In spite of some high sodium issues, Chipotle salad calories turn out to be manageable in a healthy diet.
References
Chipotle: Nutrition: https://www.chipotle.com/en-US/menu/nutritional_information/nutritional_information.aspx
Chipotle Nutrition Facts Calculator 2.0: https://www.chipotlefan.com/index.php?id=nutrition_calculator
Images:
Chipotle media kit: https://www.chipotle.com/en-US/company/media_kit.aspx