The Profound Personal Affect of Labyrinth Walking Meditation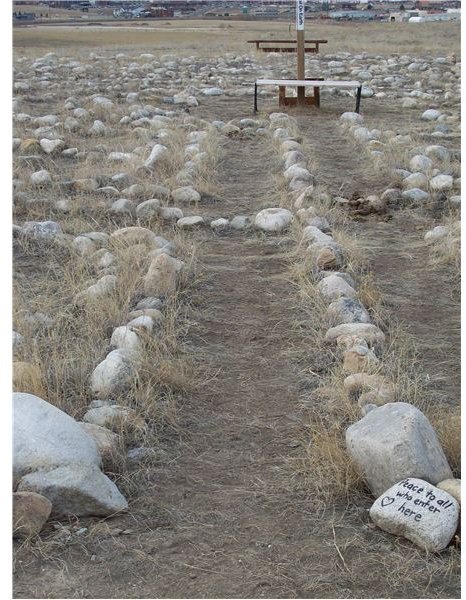 The Quest
I began this little quest to write just about how beneficial and easy the act of walking is for a person's physical and mental wellbeing. I stumbled upon this concept of labyrinth walking meditation and became interested enough to do a little bit of my own investigation. It had nothing to do with writer's block, I swear.
I like living by the credo which states that you should try something new as much as possible to gain a new perspective so I decided to travel to the local labyrinth and see what this was all about. I wondered whether or not walking in this ancient cyclical pattern did in fact bring the sense of tranquility, peace and harmony that much of the hype revolving around it would lead one to believe.
I must admit that the thought of a labyrinth brings to mind a sense that I need to don some armor and a sword and slay some dragon with a Monty Python tune in the background but I endeavored to leave any and all preconceived notions at home. I had to work quickly too because the grayish-white clouds that had clung to the pines on the ridges all morning had begun to drift down to the valley floor bringing snow which would undoubtedly cover and white out the local labyrinth. (To find a labyrinth near you refer to article 3 in this series.)
I arrived at the labyrinth hosted by an Episcopal church in Helena, Montana which was situated on a high, wide, and handsome prairie
east of town. It was laid out in fieldstone in the style of the famous one found at the Chartres Cathedral in France. I dismissed the critical thoughts that crept into my head like "this is just an organized pile of rocks" and excused the large piles of horse dung within the labyrinth. None of my research indicated anything about horses and their relationship to labyrinths. A fault many of my friends and I share is cynicism and contempt prior to investigation so I had to concentrate very hard to not imagine the comments that would be flying around this scene at the start of a journey like this.
The Revelation
So I took my mind to a higher plane, took a few deep breaths and inhaled the pensive beauty of the overcast skies and a wind that moved through the tall grass in the vast field like a giant invisible snake. I remembered that the object here revolved around transforming the human spirit in order to annihilate stress. After all, are there really any big deals in life once you accept death?
I forged on and entered where on the rock it said "Peace to all who enter here." As I walked I did feel a shifting in consciousness and a profound relaxation and acceptance ("Acceptance was written on one of the rocks - so that helped). "Peace" and "Forgive" each adorned another rock at varying intervals. I began to channel an acute sense of peace coupled with an appreciation for all of us humans, flawed as we are, trying to make sense of this journey so wrought with pain and sorrow.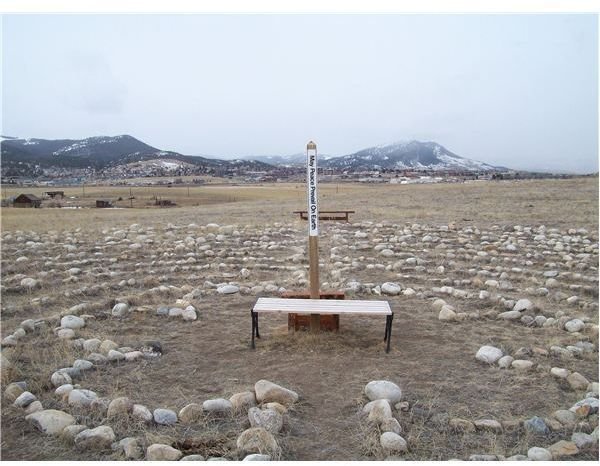 As if it were choreographed, as soon as I saw the stone marked with "Forgive," I saw an army helicopter take off in the distance from Fort Harrison. It was the same type of helicopter that was used to Medivac my friend in Bagdad after we were ambushed by a suicide car bomber. He died before that chopper ever landed again and the shrapnel in his neck prevented him from uttering any last words. That event and others in the war have caused such a tumultuous roller coaster of emotions for years within me, just under the surface of my psyche.
The anger, the desire for revenge and retribution that is ingrained in us through so many sources from the earliest days of our youth and the sadness which is the other side of this coin are all things that veterans must contend with for the rest of our days. Many of these underlying emotions can become poisonous when left unchecked and can lead to withdrawal and isolation from the very society we put our lives on the line for.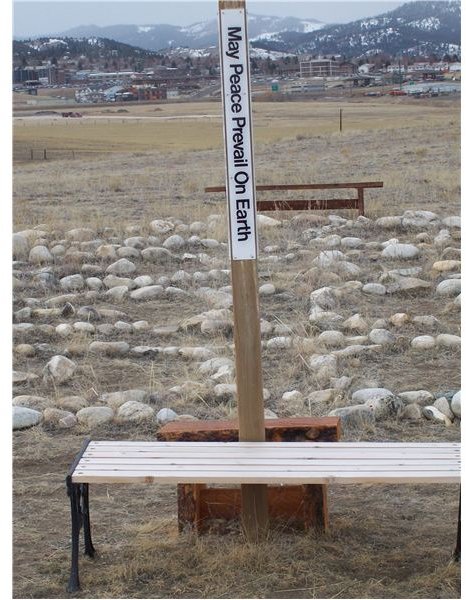 I do not wish to carry bitterness and hostility with me and therefore I'm always looking for the antidote, or, more realistically, methods to mitigate those stressors. The point of me conveying all that to you is that on this day, in that labyrinth, I personally felt eased, uplifted, and perhaps even graced with a sense of forgiveness. I can only explain that by an acknowledgment of a power greater than myself and the ancient words; "Seek and ye shall find."