Health Benefits of Shrimp and Nutrition Facts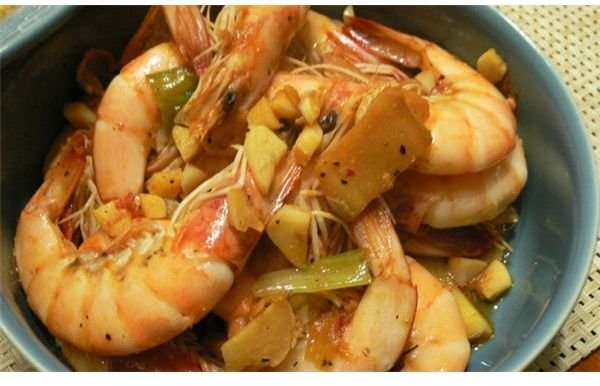 Shrimp Health Benefits
The health benefits of shrimp are one of the main reasons why it is regarded as the most popular seafood in the world outside of fish. Shrimp is regarded as low in calories and saturated fat, making it a good alternative to unhealthy meat proteins. Shrimp comes in a wide variety of sizes and colors, such as yellowish, brownish and gray. There are also many different delicious shrimp menus, but make sure to cook it the right way whether you want to cook raw shrimp, or grilled. Millions of fresh and frozen shrimp are available for consumption throughout the year.
Anti-Cancer
There are many benefits of eating shrimp to interest even the person who is not exactly conscious of his or her health. For instance, it is believed that shrimp are very good for preventing cancer. About eight ounces of steamed shrimp furnishes selenium. Selenium is a mineral proven to be a powerful anti-cancer supplement, and may aid in decreasing the potential occurrence of prostate cancer. In one study conducted by the Institute of Food Research, it was revealed that selenium, when combined with sulforaphane, can be 13 times more effective in attacking cancer cells. Other selenium rich foods include cabbage and broccoli.
Healthy Hair and Skin
Protein is found in shrimp, and this nutrient is essential in protecting the hair, skin, and nails. The most advanced shampoo and lotion products in the world make use of protein in protecting the said parts of the body. Shrimp can also help in preventing anemia, since it is rich in the nutrient vitamin B12, which helps in the production of red blood cells, while preventing pernicious anemia. Shrimp is also rich in iron, an essential nutrient that the body uses in producing energy and sustaining of vitality.
Strong Bones and Fat Processing
Crustaceans, like shrimp, are loaded with phosphorus, a nutrient that supports good bones and teeth. By eating shrimp, a person gets enough phosphorus to build strong bones and teeth. Likewise, shrimp are considered great sources of vitamin B3, or niacin, which supports the processing of fats, protein, and carbohydrates, and turns these into body energy.
Those who often feel down and depressed may find relief from these feelings by eating a lot of shrimp. Why is that? Studies support the theory that shrimp contain omega 3 fatty acids that provide protection against depression. Eating shrimp regularly may help a person improve his or her mood, especially those who suffer from chronic depression.
Promoting Prostate and Thyroid Health
Men should large quantities of shrimp because it promotes prostate health. Studies support claims that zinc slows down the development of prostate cancer cells. Shrimp are rich in zinc, containing about 10 to 15 milligrams for every serving. At the same time, shrimp support the good health of the thyroid glands, as they contain high levels of copper, which promotes thyroid health.
The Bottomline
There are several amazing health benefits of shrimp. To sum it up, shrimp contain selenium and zinc, which serve as anti-cancer supplements for men to prevent prostate cancer, while their high copper content prevent thyroid gland disorder. It can also provide extra protection for skin, hair and nails because of its rich protein content. The vitamin B12 in shrimp prevents pernicious anemia, while its iron content provides energy for the body. Other helpful nutrients in shrimp include phosphorus, niacin and carbohydrates. If, however, you are allergic to shrimp, you should avoid eating it.
References
Health Mad, "Health Benefits of Shrimp" - https://healthmad.com/conditions-and-diseases/10-health-benefits-of-shrimps/#ixzz0wYuRDYQl
Natural Food Benefits, "Shrimp" - https://www.naturalfoodbenefits.com/display.asp?CAT=4&ID=105
Image Courtesy of Wikimedia Commons / by Nick Mote