Nutrition Facts about Plain Cheese Digiorno Pizza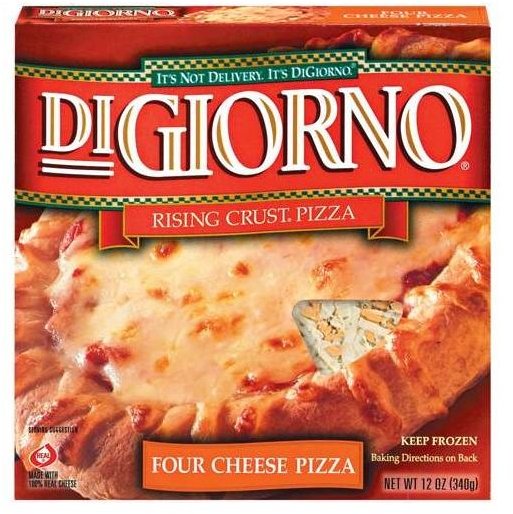 About DiGiorno® Pizza
The DiGiorno® Pizza brand was created by Kraft Foods back in 1996 and has since gone on to become one of the most popular frozen pizza brands in the United States. The concept behind the brands creation was to provide an alternative to delivery pizza that people could pick up at the supermarket. It is that concept that spawned the brands slogan of "It's not delivery. It's DiGiorno!".
Kraft Foods sold the DiGiorno® Pizza brand in 2010 to the Société des Produits Nestlé corporation, otherwise known as just Nestlé in the United States. Most of the pizza types under the DiGiorno® Pizza brand have stayed the same since the parent company has changed. One of those types is their four cheese pizza which has retained the same popularity as it did before the change. Here we take an in depth look at the nutrition facts about plain cheese Digiorno pizza both by the slice and for the entire four cheese pizza pie.
Nutritional Information
The DiGiorno® Rising Crust Four Cheese 12" Pizza contains about six servings which equals out to around 133 grams of combined ingredients in each of the slices. The base for the pizza crust is made from wheat flour and water. Because the wheat flour is used, this pizza is not for those who are allergic to wheat and are on a gluten free diet.
The pizza contains four different cheeses which are: asiago, mozzarella, parmesan and romano. All of the cheeses are made from part skim milk and part whole cow's milk which contain cheese culture enzymes. The enzymes are derived from rennet and though there are now synthetic forms of rennet made for food production use it is unclear whether that is the case here or if the rennet used comes from the stomach tissues of calves.
Other ingredients used when looking for the nutrition facts about plain cheese Digiorno pizza, include regular corn meal and white corn meal as well as vegetable oil which may include both soybean and corn oils. Plain tomato paste is used along with baking soda, garlic and another ingredient only labeled as "spice".
Per serving, this pizza contains the following:
Calories - 310
Calories from fat - 100
Total Fat - 11g *5 of those grams are saturated fat
Cholesterol - 25mg
Sodium - 850mg
Carbohydrate - 40g
Fiber - 2g
Protein - 15g
Sugar - 6g
If one was to eat the pizza as a meal instead of having one serving slice the total caloric intake would be 1,860 calories which is almost the total amount of calories allotted on the food pyramid daily for an average adult.
Because of the ingredients used in this pizza, it is important to note that the following types of people should avoid eating this kind of frozen pizza pie. Those who are allergic to wheat, corn and milk. Those who are on a low calorie diet, a gluten free diet and who are vegetarians.
The DiGiorno® Four Cheese Pizza is a tasty treat when shopping for frozen pizzas at the market but like all processed foods it is always a good idea to enjoy in moderation. For more information on healthy processed food alternatives see, Healthy Alternatives to Snack Foods and Kid Friendly Eggplant Pizzas for a pizza meal that can be both entertaining and healthy for the whole family.
*image provided by the Société des Produits Nestlé S.A., DiGiorno® is a registered trademark of the Société des Produits Nestlé S.A.
Sources: University of Cincinnati Clermont College - Rennet for Making Cheese, by Professor David B. Frankhauser, Ph. D.
Nestlé USA, main web site www.nestleusa.com - DiGiorno® Four Cheese Pizza