Chinese Food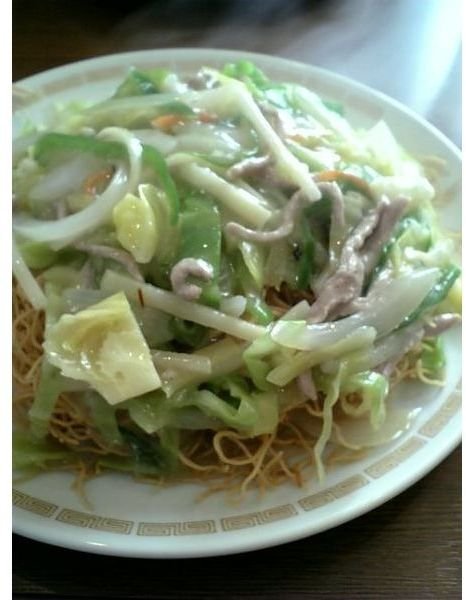 Eating Chinese food in America has both advantages and disadvantages. The good news is, most dishes are low in saturated fat (the "bad" fat that raises "bad" cholesterol), are without trans fat (which is worst than saturated fat), and contain unsaturated fat (the "good" fat the body needs). The bad news is, many dishes are very high in sodium and some can be quite high in calories. Below are some Chinese food nutrition facts that may surprise you.
Nutrition Facts
You may think ordering a vegetable dish is a healthy choice. Not always. For instance, a plate of Stir-Fried Greens (including spinach) has 900 calories (this is almost half the calories needed in one day for the average adult) and 2,200 mg of sodium (this is almost a whole day's worth for the average adult).
You may have heard of tofu, a common food in vegetarian diets. Tofu (a bean curd) is healthy for you but when deep-fried as it in the Tofu & Mixed Vegetable dish, you are looking at the same amount of calories and sodium as in the Stir-Fried Greens.
Chicken is considered better for you than red meat but not when it is fried like it is in the General Tso's Chicken dish (which comes with vegetables). This dish has 1,300 calories and a whopping 3,200 mg of sodium.
The Kung Pao Chicken is not fried but it does contain nuts which (although healthy for you) make it high in calories. One plate (which comes with vegetables) has 1,400 calories and 2,600 mg of sodium.
The Shrimp with Garlic Sauce dish with vegetables is lower in calories (700) but is very high in sodium (3,000 mg).
The Sweet & Sour Pork dish is lower in sodium (because of more sugar) but has 1,300 calories.
The above are just a few samples of how healthy foods can be unhealthy for you when prepared certain ways. Below are some tips you can use when ordering Chinese food.
Tips
Avoid foods that are deep-fried. Instead, order foods that are broiled, steamed, roasted, or stir-fried.
Avoid sauces or order dishes with little sauce. If you do include a sauce, order it on the side and use minimal amounts with each bite.
Order brown/steamed rice instead of white/fried rice.
When ordering large dishes, share with someone or bring half of it home to eat later.
Conclusion
Chinese food nutrition facts can be found on the internet for most restaurants so before you order, do some research so you can ensure the food you eat is healthy for you.
References
Chinese Restaurant Food: https://www.cspinet.org/nah/chinese.html
Chinese Food: https://www.pennmedicine.org/health_info/nutrition/chinese.html
Image Credit
Chinese food image courtesy of https://www.flickr.com/photos/yurayura/98293190/