Carbohydrates in Watermelon: How to Enjoy Watermelon While Benefiting from the Healthy Carbs

Watermelon tastes great, and furnishes a mega-dose of vital living antioxidants to neutralize free radicals and boost the immune system. It is a low carb food and a perfect diet food for those on weight loss diets. However, what about the carbohydrates in watermelon?
What are Carbohydrates?
According to David A. Bender in A Dictionary of Food and Nutrition, "Carbohydrates are the major source of metabolic energy, the sugars and starches. " The body converts carbohydrates in food into simple sugars, which are absorbed into the bloodstream. As the level of sugar in the blood increases, the pancreas is prompted to secrete insulin. Insulin grabs the sugars from the blood and routes it to the body cells to be used for energy.
Watermelon and Carbs
Watermelon is a low calorie, healthy carb food. The calories in one cup are a measly 48, with a low carb rate of 11.5 grams of carbohydrate.
Image Credit/Wikimedia Commons/Steve Evans/CC Attribution 2.0 Generic License
The glycemic index is a scientific method for scoring carbohydrates based on their effect on blood sugar levels. The higher the glycemic index number, the faster a food raises blood sugar levels and vice versa. Watermelon has a low score on the glycemic index. For those who are monitoring their carb intake, eating healthy carbs like those in watermelon is a smart way to regulate blood sugars levels and avoid insulin spikes.
Watermelon Nutritional Value
In addition to being a low-carb food, watermelon's health benefits rank high on the nutrition scale. Watermelon contains 23 vitamins; the main vitamins supplied by this juicy fruit are vitamin C, vitamin B6, vitamin B12, vitamin A, and Vitamin K. With eleven minerals such as calcium and iron, and 18 essential amino acids like arginine and lysine, watermelon is definitely a super food.
Watermelon is rich in antioxidants for fighting infection, strengthening the immune system, and protecting against cancers like prostate, breast, and lung cancer. Watermelon is 92% water, so sip watermelon juice to hydrate your body quickly and deliciously.
How to Select and Store Watermelon
It's easy to choose a ripe juicy watermelon when you know a few secrets. Did you know a yellow or light colored underbelly is a sign of ripeness? Pick the watermelon up and estimate the weight. Find the heaviest watermelon with lightest underbelly flesh – this is your best choice for ripeness and flavor. Although it's common practice to chill watermelon prior to eating it, the antioxidants and other nutrients increase and grow stronger if the fruit is stored at room temperature. For best taste and nutrition, slice the watermelon about one hour before serving and chill until serving time.
Nutrition Secrets of Watermelon
Most Americans eat the flesh of the watermelon and discard the seeds. Want a little known nutritional secret? The seeds are a powerhouse of phytonutrient antioxidants. They contain nine minerals, 13 vitamins, and 19 essential amino acids. The key nutrients provided are calcium, potassium, iron, tryptophan, arginine, vitamin C, vitamin B6, vitamin B12, and vitamin K. Let's talk about how to prepare these tasty natural vitamins.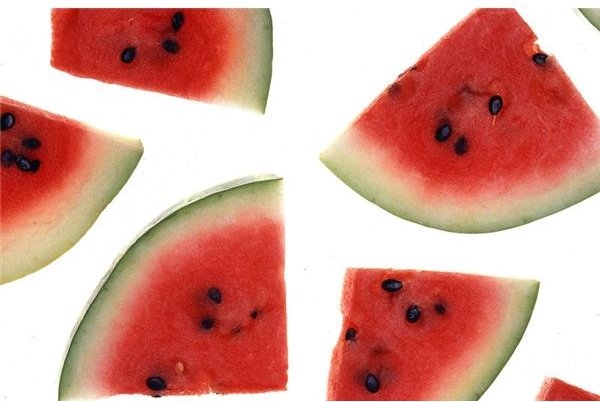 Image Credit/Wikimedia Commons/Public Domain
Watermelon seeds taste best when roasted and salted. Scoop the seeds out of the flesh, wash well, and drain. Roast the seeds in a 350 degree Fahrenheit oven for 20 to 30 minutes. Let cool and season with sea salt. Enjoy this healthy and nutritious snack anytime for a low carb treat.
Individuals on low carb diets can enjoy watermelon guilt-free as a healthy addition to weight loss diet meals. What better way to eat your vitamins than by enjoying a juicy slice of sugar-sweet watermelon? In addition, you don't have to worry about the carbohydrates in the watermelon.
If you'd like to try growing your own watermelon, read "How to Grow Watermelon in a Small Garden in 5 Easy Steps." For more information about the health benefits of watermelon, visit your local library, or read some of the other articles on the Bright Hub site.
References
Encyclopedia.com, Dictionary of Food and Nutrition, David A. Bender