Learn about Karanja and Neem Oil for Skin Care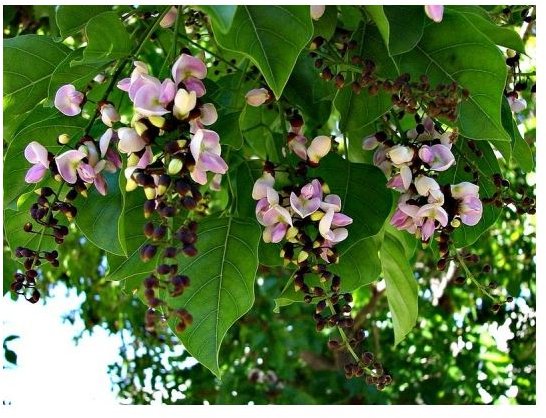 Karanja & Neem Oil
Karanja oil and neem oil (cousins) have been used in India for centuries to treat many ailments, including skin problems. Today, it is still used for medicinal purposes, as well as for cosmetic purposes.
Karanja oil is derived from the seeds of the Pongam tree (Pongamia glabra). Its color is a golden brown, its viscosity is moderate, and its aroma is described as "nutty". The oil is non-edible. It is high in omega 9 fatty acids and quickly absorbs through the skin, making it a wonderful remedy for dry skin.
Karanja oil has antibacterial properties and is used to treat wounds, psoriasis, eczema, and skin ulcers. It also has insecticidal properties and is used in pet care to treat fleas, scabies, and mange.
Neem oil has a stronger aroma than karanja oil. In India, it is often referred to as "the village pharmacy" because it is believed to cure all. The oil is derived from the kernels of fruit from the Neem tree (Azadirachta indica).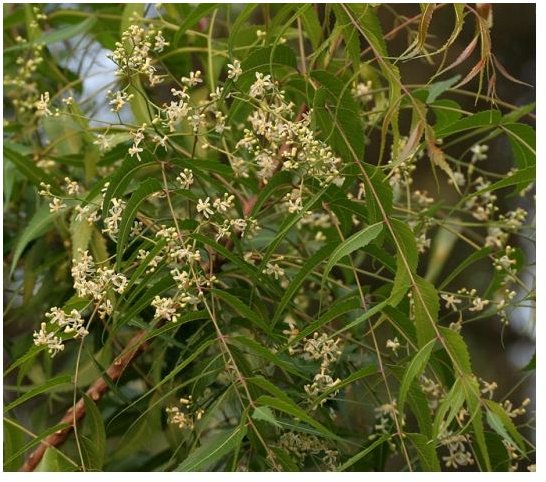 Neem oil is rich in fatty acids and high in vitamin E. It is an excellent moisturizer and can restore the skin's natural elasticity. It is a perfect remedy for dry, cracked, and damaged skin.
Neem oil also has antibacterial properties and is used to treat wounds and skin problems like eczema. In addition, it also relieves inflammation and acts as an analgesic (pain killer).
The active ingredient in neem oil, azadirachtin, can repel many insects, thus making it a common natural treatment for parasites.
Karanja and Neem Oil for Skin Care
Skin Care
Mix 2-10% of neem oil or karanja oil with a natural cream or lotion and apply to your skin. You should not apply the oils directly to the skin.
Mix 2-10% of neem oil or karanja oil with a carrier oil (such as sweet almond oil, sesame oil, or coconut oil) and essential oils (such as sandalwood or lavender) and use as a massage oil.
Pet Care
Mix 1 ounce of neem oil with 4 to 10 ounces (depending on the size of the animal) of sweet almond oil, sesame oil, or olive oil. Massage the mixture into the skin, leave on for about 30 minutes, and wash off with a mild shampoo.
You can also add 1-2 ounces of neem oil and karanja oil into the amount of shampoo you will be using.
When buying products of karanja and neem oil for skin care, read labels closely to ensure you are getting all natural ingredients.
Sources Used
All About Karanja and Neem Oils: https://www.snowdriftfarm.com/form_karanja_and_neem_oils.html
Karanja Oil Compared to Neem Oil: https://www.livestrong.com/article/74231-karanja-oil-compared-neem-oil/
Using Neem & Karanja: https://www.neemresource.com/UseTips.html
Photo Credit
Pongam tree image courtesy of https://www.flickr.com/photos/[email protected]/3079156451/
Neem tree image courtesy of https://en.wikipedia.org/wiki/File:Neem_%28Azadirachta_indica%29_in_Hyderabad_W_IMG_6976.jpg
Disclaimer
Please read this disclaimer regarding the information contained within this article.