Quit Smoking Cigarettes: Find Natural Ways to Quit Smoking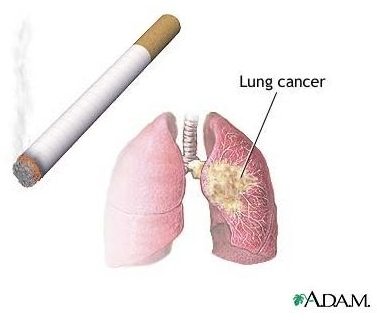 Smoking
According to the American Cancer Society, about 50% of smokers will die of a smoking-related illness:
• Cancer (including lung, kidney, colon, bladder, pancreas, breast, and cervix).
• Lung disease (including emphysema and chronic bronchitis).
• Heart disease (including heart attacks).
Despite how old you are or how long you have been smoking cigarettes, quitting will prolong your life and lower your risk of smoking-related diseases. For example, after five years of quitting, your risk of having a stroke will be the same as someone who never smoked.
Natural Ways to Quit Smoking Cigarettes
To quit smoking successfully, you must really be motivated to do so. Have a concrete plan. Set a date to quit, remove all cigarettes and ashtrays, and plan how you are going to handle cravings. Prepare as though you would for a marathon or some other major project.
Find alternative ways to reduce stress such as yoga, meditation, or a hobby you enjoy.
Join forces with others who seriously want to quit smoking, whether it be a family member, a friend, or a support group.
Motivate yourself. Think how good it is going to feel taking the stairs and not running out of breath. Think how much money you will save. Reward yourself with the money saved.
Drink plenty of water, take extra vitamin C, and envision how clean the inside of your body is becoming while ridding it of toxins.
Don't give up. If you fail, try again. Very few people quit for good after the first attempt.
When you have an urge for a cigarette, try one of these natural remedies:
Eat an orange. According to a research group in Britain, smokers who ate oranges when they craved a cigarette smoked 79% fewer cigarettes after three weeks and 20% quit smoking completely.
Take a swallow of citrus juice the next time you feel like lighting up.
Magnolia-bark tea is effective in curbing the desire to smoke. Have one cup in the morning when you would normally have your first cigarette and one half cup during the day when you have the urge to smoke.
Marjoram tea can also help you quit by decreasing the urge to smoke. You can alternate this tea with magnolia-bark tea.
Chew on unsalted, raw sunflower seeds. These seeds have a calming effect and can reduce the craving.
Suck on a small clove. This will take away the nicotine craving in your mouth.
Chew on a celery stick, a carrot stick, or a cinnamon flavored toothpick.
Acupuncture, acupressure, and hypnosis are other natural ways to quit smoking cigarettes. Although there is little evidence that suggests these methods work, many ex-smokers swear by them.
WhyQuit.com - For people who want to quit cold turkey. Offers motivation, education, support, and free professional counseling.
Disclaimer
Please read this disclaimer regarding the information contained within this article.