Calamus Root: A Natural Brain Tonic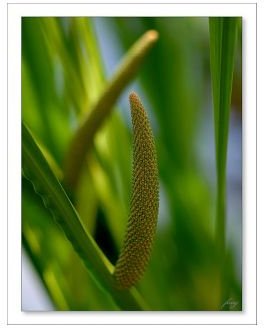 Acorus calamus, often called calamus root or sweet flag, is a semi-aquatic perennial herb, indigenous to India. It was used as an ayurvedic herb for memory enhancement as well as a remedy for respiratory problems and epilepsy for over two thousand years. Most commonly cultivated in India and Central Asia, where it grows in marshy regions, near lakes and streams, calamus root has also been an important herb in both Chinese medicine, and North American Indian medicine, where it is treated as a Sacred herb. In European herbalism, it has been used for digestive health, colic, and even as an aphrodisiac.
The sweet flag rhizome is the active part of the plant. The root itself can be chewed, dried and used to make a calamus root tea, or ground into a fine powder. The volatile oils can also be extracted to make calamus oil, which is also beneficial as a brain tonic. It has a warm, pungent aroma.
Using Calamus for Sharpening the Mind
Calamus root is an effective herb for stimulating cerebral functions and brain tissue. It will not necessarily increase knowledge, but it may broaden your capacity for knowledge. It both energizes brain function, and at the same time promotes a feeling of relaxation, having an overall balancing effect on the mind. Perhaps some of the calamus benefits for the brain are due to the herb's warming effect, as it increases blood circulation, and brings more oxygen-rich blood to the brain. Acorin, acoretin, calamine, mucilage, and tannins are all compounds found in this herb.
As an Ayurvedic brain tonic, this plant improves the brain's ability to process information and supports the nervous system, making it one of several Ayurvedic therapies to have a beneficial impact on the mind, without negative side effects. A natural remedy for improving memory is to take a pinch of calamus root powder with half a teaspoon of honey each morning and evening. An herbal infusion can also be taken, either brewed from one or two teaspoons of the dried herb, or by mixing calamus root powder in boiling water.
There are some claims that this root can act as a hallucinogenic or psychedelic drug due to certain compounds found in the plant. Although the sweet flag rhizome may 'elevate' the mind, and have a mild psychoactive effect, it is far from a substitute for psychedelic drugs. In Ayurveda, calamus is actually used as a remedy for the toxic effects of cannabis on the liver and the brain.
Other Natural Benefits
Calamus root is also used in Ayurvedic medicine for common colds, sinus infections, and asthma. The powder can be taken through the nose, or drunk as an infusion to help relieve mucous build-up. It is also a digestive stimulant, increasing the production of bile, and relaxing common stomach problems. Taken in large doses, it acts as an emetic.
This plant is an age old benefactor of the mind. Thanks to Ayurveda, we can utilize the positive effects of this brain tonic.
Lad, Dr. Vasant. "Ayurveda: The Science of Self-Healing." (Lotus Press, 1984).
photo credit: Fesoj
Disclaimer
Please view the disclaimer for the information contained within this article.