Health Benefits of Kiwi Fruit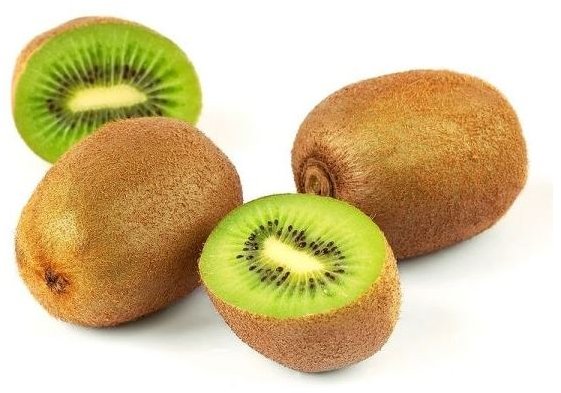 Kiwi Fruit
Kiwi, named after a flightless bird, is native to China and was originally known as Yang Tao. Kiwi was introduced to the western world in the early 20th century and is enjoyed by many.
These delicious fruits are an excellent source of vitamin C (one kiwi provides 95 percent of the daily recommended value), a very good source of fiber, and a good source of vitamin E, potassium, magnesium, manganese and copper. Kiwi is also one of the best food sources that contain lutein and zeaxanthin.
Kiwi image courtesy of Luc Viatour ©
Health Benefits of Kiwi Fruit
Fiber
The fiber content in kiwi has many benefits. It gives a "full" feeling which helps in weight loss. It helps prevent constipation, lower cholesterol levels, regulate blood sugar levels and decrease one's risk of colon cancer.
Antioxidants
Vitamin C and vitamin E found in kiwi are both powerful antioxidants. Vitamin C is a water-soluble antioxidant and vitamin E is a fat-soluble antioxidant. Both protect cells from damage by free radicals. This benefits the body by reducing its chances of having problems such as asthma, atherosclerosis, rheumatoid arthritis, osteoarthritis and cancer.
To get the most antioxidants, eat fully ripened kiwi.
Lutein and Zeaxanthin
Lutein and zeaxanthin are carotenoids (and antioxidants). Both help protect the eyes and decrease one's chances of developing macular degeneration disease and cataracts.
Smoothie Recipes Using Kiwi Fruit
• Blend 4 cups of kiwi (sliced), 4 cups of strawberries (sliced), 4 cups of milk and 4 cups of vanilla ice cream until smooth.
• Blend 2 kiwis, 1 banana and 1/2 cup of vanilla rice milk until smooth.
• Blend 1 kiwi, 1 apple, 1 banana, 1 cup of carrots (chopped), 1 cup of pineapple (chopped) and 1 cup of ice cubes until smooth.
• Blend 1 kiwi, 1 banana, 1 cup of strawberries, 1 cup of blueberries, 1/2 cup of orange juice, 1 8-ounce container of peach yogurt and 1 cup of ice cubes until smooth.
To get the most health benefits of kiwi, eat the whole fruit, including the skin (after washing it well). *The above recipes recommend peeled kiwis.
Disclaimer
Please read this disclaimer regarding the information contained within this article.