Nasturtium Benefits: Healing with this Anti-Microbial Herb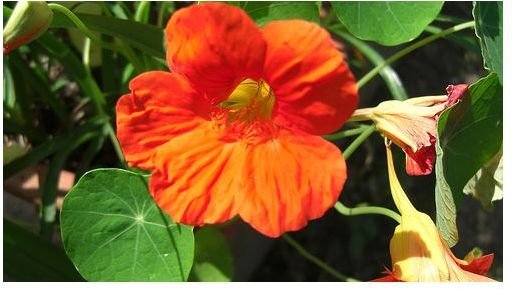 Tropaeolum Majus
Nasturtium herb has bright orange-yellow flowers and circular green leaves and star-shaped veins. It is a sprawling garden plant that possesses remarkable anti-microbial benefits. Nasturtium belongs to the Tropaeolaceae family of plants and is not related to watercress, whose Latin name is nasturtium.
For its medicinal properties the aerial parts of the plant are used. Nasturtium benefits are due to the presence of glucosinolates, which is a sharp mustard oil that contains volatile oils and an antibiotic substance, flavonoids, carotenoids, and vitamin C.
Healing Benefits
This plant has one specific purpose which can be beneficial in treating dozens of common problems. It is an anti-microbial herb which can serve as a natural antibiotic. Nasturtium is indicated for external and internal bacterial infections. It can be used to cleanse and protect minor scrapes and cuts, to defend and strengthen the body from infections of the respiratory tract, and to treat urinary tract infections. A good source of immune boosting vitamin C as well, nasturtium may be an ideal natural remedy for helping the body overcome the common cold and influenza.
Research has proven that this plant's effectiveness as a natural antibiotic is comparable to the use of conventional antibiotic drugs. When combined with horseradish root, nasturtium herb was just as effective for treating acute sinusitis, acute bronchitis, and acute urinary tract infections and in fact was found to be a safer solution. In another study of treating urinary tract infections in children nasturtium, along with other natural remedies such as cranberry, probiotics, and horseradish, again proved beneficial although officially the results were not conclusive.
How to Use
While one of the more powerful anti-bacterial plants available, nasturtium is most effective when freshly picked from the garden and made into a compress to use for external infections or into an infusion to drink for internal infections. Despite its value as a medicinal plant and positive results in clinical trials, the freshness factor may be the reason why nasturtium is not a more widely used herb.
To use externally, make a strong infusion with the freshly picked plant. Soak a clean cotton cloth in the liquid and then apply to the affected area. To make nasturtium tea, again use the fresh leaves. Steep two teaspoons in one cup of boiling water for ten minutes. To combat an infection drink three cups daily. You can also take this medicinal herb in tincture form, one dropperful up to three times a day.
Possible Side Effects
When used topically, be aware that nasturtium contains a mustard oil, which can be irritating to the skin. Do not take this plant if you are pregnant or breast-feeding or if you have kidney disease or ulcers of the stomach or intestinal tract. While there have been positive results even in clinical trials, the benefits of nasturtium are not recognized by the conventional medical community. To be safe, talk to an experienced alternative medicine practitioner, or even your own doctor before using herbal medicine.
References
International College of Herbal Medicine https://www.herbcollege.com/herbofthemonth.asp?id=82
National Institutes of Health Clinical Trials https://www.ncbi.nlm.nih.gov/pubmed/19532083 and https://www.ncbi.nlm.nih.gov/pubmed/16618018
Hoffmann, David. "The Complete Illustrated Holistic Herbal: A Safe and Practical Guide to Making and Using Herbal Remedies." (Element Books, 1996).
Web MD https://www.webmd.com/vitamins-supplements/ingredientmono-526-NASTURTIUM.aspx?activeIngredientId=526&activeIngredientName=NASTURTIUM
photo by Swami Stream (CC/flickr) https://www.flickr.com/photos/araswami/430195392/
Disclaimer
Please read this disclaimer regarding the information you have just read.