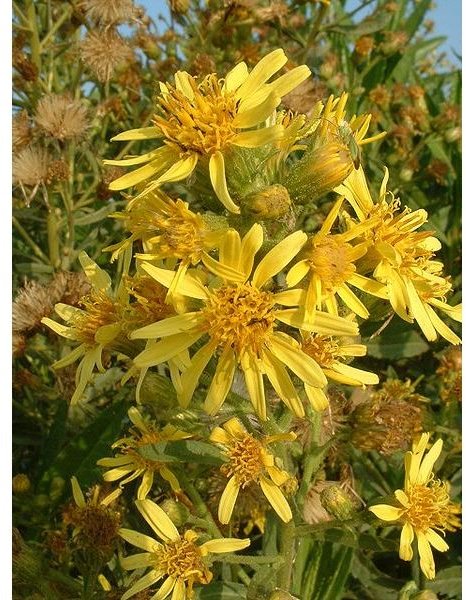 Elecampane is a staple of traditional Chinese medicine, as well as traditional alternative medicine. There are many purported benefits of elecampane, as well as several uses. Everyone considering taking this herb should consult a physician first to be safe, but there are few reported warnings and side effects.
Respiratory Uses and Benefits
There are several respiratory benefits of elecampane. It may be used to treat respiratory conditions in characterized by respiratory canal blockages, such as bronchitis and asthma. It may help to treat these conditions because the plant contains specific chemical substances that help the mucus flow freely by thinning it. This results in a decrease in lung congestion because the excess mucus will be eliminated easier. In Chinese medicine, this herb is made into candy, a lozenge, and syrup and used to treat severe bronchial infections. It is also said to thin the mucosal deposits and work as a stimulating expectorant.
Gastrointestinal Uses and Benefits
Most of the benefits of elecampane involve colon and the rest of the gastrointestinal system. It is said to help a irritated stomach tissues, intestinal tissues, and mouth tissues. It may also relieve other gastrointestinal irritations as well. This herb is also a rich source of a type of carbohydrate known as inulin. Inulin is broken down and then it is absorbed by the colon. Because this herb is rich in inulin it may help to lower blood-glucose levels. The inulin found in elecampane is also said to boost and protect the growth of the colons' beneficial bacteria which results in it suppressing or killing harmful bacteria activity. It may also help with preventing color diseases, including colon cancer. When used in tonic form, elecampane may help to stimulate and increase the appetite by aiding in digestion.
Skin Uses and Benefits
Elecampane is said to be effective in treating external skin infections, such as herpes and scabies. Patients can apply it directly to the affected area of the skin to help heal the skin infection and alleviate the symptoms.
Blood Uses and Benefits
When this herb is used in tonic form it is said to help induce blood flow during menstruation. By inducing blood flow, this herb may also be beneficial in treating anemia.
Stress Uses and Benefits
When preparing a tea with the root and rhizome elecampane has a mild sedative effect. This can help promote sleep and relaxation, as well as relieve tension headaches and stress.
Other Uses and Benefits
Traditional alternative medicine believes that elecampane possesses antitussive, antiseptic, antifungal, diuretic, and diaphoretic properties. It is also thought to have antibacterial properties and when combined with its antifungal properties, it may be beneficial in treating conditions, such as hookworm, whipworm, roundworm, and threadworm.
Cautions and Warnings
There are not too many warnings or side effects of elecampane. This herb is not recommended for women who are pregnant or nursing. Those who have diabetes should avoid this herb because it may cause hypoglycemia. Those who have low blood pressure must also be careful because it may cause their blood pressure to drop even more, resulting in headaches, dizziness, or blurred vision.
Please read this disclaimer regarding the information contained within this article.
Resources
Natural Herbalism. (2010). What is Elecampane? Retrieved on March 24, 2010 from Natural Herbalism: https://www.naturalherbalism.com/E/Elecampane.html
Ayurvedic Medicines. (2009). Elecampane Description. Retrieved on March 24, 2010 from Ayurvedic Medicines: https://www.ayurvedic-medicines.org/herbal-medicines/elecampane.htm
Image Credits
Elecampane Flowers: Rickjpelleg – Wikimedia Commons