What Everybody Needs to Know Healthy Barbecue Foods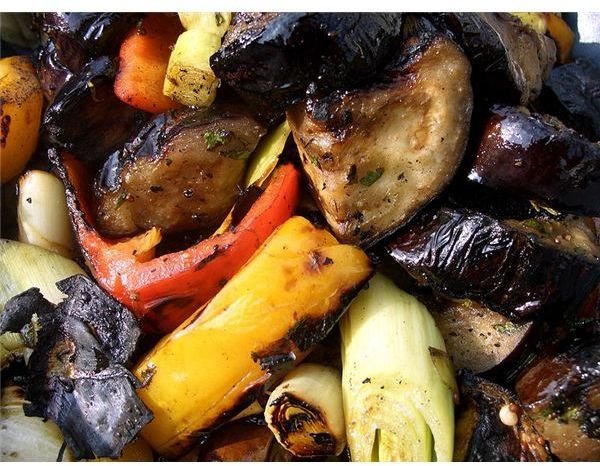 Vegetables for the Barbecue
Vegetables are an excellent low calorie, low fat choice for healthy barbecue foods for summer. They can either be placed directly on the grill, wrapped in foil, or made into kabobs. Before grilling, the vegetables can be marinated in olive oil with lemon juice, garlic or other herbs and spices for about 15 minutes.
To make grilled vegetable kabobs, cut the vegetables into approximately 1 inch cubes, and thread them onto a wooden or metal skewer. Some vegetables, such as tomatoes, cook much faster than others, so for best results when making kabobs, combine vegetables that have similar cooking times. It is best to avoid cooking meat and vegetables together on the same skewer, because the vegetables cook faster, and the center of the meat may turn out undercooked.
Some fruits and vegetables that work well for grilling include:
Corn on the cob
Red and green bell peppers
Zucchini or other types of summer squash
Sweet red onions
Mushrooms
Pineapple
Cherry tomatoes
When cooking vegetables directly on the grill, cut them into large pieces, so they don't fall through. Turn them to prevent burning and brush with marinade as they cook. Corn on the cob can be placed directly on the grill or wrapped in foil. To speed up cooking time, steam the corn briefly first, then place it on the grill to brown it.
Ways to Grill Potatoes
Potatoes are another great choice for the grill, and they can be prepared in a number of different ways. Potatoes in their jackets can be wrapped in foil and placed on the grill, or if the heat isn't too intense, directly on the coals. To avoid having the potatoes turn out too dry, place about a tablespoon of olive oil along with some salt, pepper, herbs, or spices on the foil before wrapping the potato. Whole potatoes will cook in about 45-60 minutes.
To grill potatoes more quickly, cut them lengthwise into six or eight wedges, or crosswise into thick slices. These pieces can be cooked directly on the grill or in a grill basket. They should be turned while cooking to prevent them from burning. Thinner slices of potato can be cooked in foil packets. Place the potato slices on a piece of foil, drizzle with oil and add onions, garlic, peppers, or other desired seasonings, and wrap securely. Sliced potatoes wrapped in foil packets cook in about 25 minutes. Use caution when opening the foil packets after grilling, because they may contain scalding hot steam.
Fish and Seafood
Salmon is an excellent healthy choice for a summer barbecue. It can be grilled either whole or cut into filets. If grilling a whole, fresh salmon, it should be cleaned, gutted, and scaled. Cut slits every two inches and season with onions, lemon, salt and pepper, or herbs. Wrap the salmon in foil and leave an opening for the steam to escape. Cook a 5-7 pound salmon for 20-30 minutes, or longer for a larger fish; it will be flaky when done. Salmon filets can be cooked directly on the grill. Oil the grill first to prevent sticking, and turn the filets once while cooking.
Shrimp is delicious barbecued, and can be grilled on a skewer. Marinate the shrimp before grilling for about 10 minutes, and baste with marinade while on the grill.
Incorporating these tasty and healthy barbecue foods into your menus helps avoid the usual fat-laden cheeseburgers and other unhealthy foods. Lighten up the family cookouts and try some of these tips at the next barbeque.
Sources
https://bbq.about.com/od/fruitandvegetables/a/aa090906a.htm, "Grilling Potatoes"
https://whatscookingamerica.net/SalmonBarbecue.htm, "Barbecued Whole Salmon"
Image Credit: Wikimedia Commons/Salimfadhley