List of Foods for a Diabetic to Eat: This Handy Lists Streamlines Shopping Trips & Menu Planning

If you have diabetes, it is important to understand the connection of carbohydrate consumption to the management of your condition. Carbohydrates become sugar and affect blood glucose levels. Diabetics must maintain a delicate balance of carbohydrates to insulin levels to stay healthy. While carbohydrate counting is a key part of diabetes management, an overall knowledge of nutrition is also helpful. For other helpful hints on meal planning for diabetes, read "What Can a Diabetic Eat?"
Image Credit/Healthy Foods Pyramid/Wikimedia Commons/Susan Lesch
Diabetic Food List for Whole Grains
Here is a handy guide to a list of foods for a diabetic to eat. Whole grains are a tasty way to add good carbs into the diet. Choose from a wide variety of: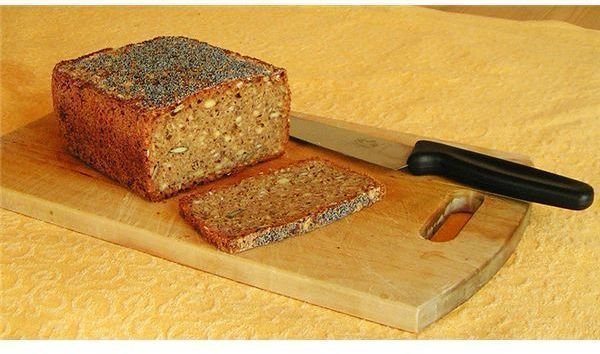 Photo: Mogens Engelund, Wikipedia
Whole grain breads
Whole grain cereal
Bran
Barley
Buckwheat
Millet
Steel-cut oatmeal
For more information on diabetes menu planning, please read "Meal Plans for Diabetics."
Diabetes Fighting High Fiber Vegetables
Although fiber is a carbohydrate, the body does not digest it, so it does not raise or affect glucose levels, which is good news for diabetics. Vegetables should ideally be eaten raw, or as minimally processed as possible – steamed or blanched, for instance. Pick up some of the fiber-rich vegetables on this list while shopping and enjoy the health benefits.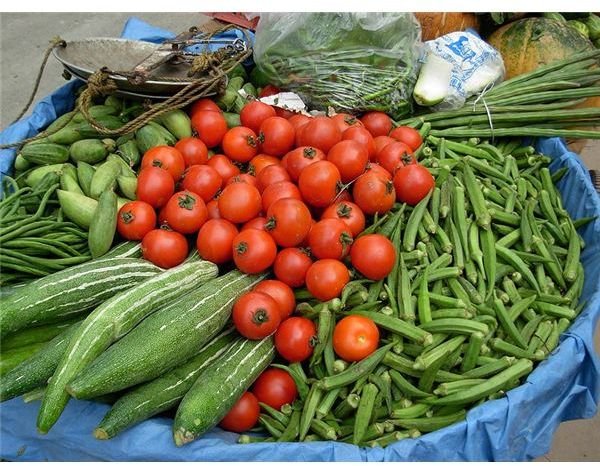 Image Credit/Wikimedia Commons/Biswarup Ganguly
Artichokes
Avocados
Broccoli
Brussels sprouts
Cabbage
Cauliflower
Celery
Cucumber
Eggplant
Greens
Peppers
Spinach
Make sure menus contain enough calories and other nutrients by reading, "1000 Calorie Diabetic Diet Meal Plan Guide."
Fruits for Diabetics
The best fruits for diabetics are high fiber and high fructose choices. These will not affect blood sugar levels and most have low glycemic indexes. Fruits should be eaten raw for the best results; dried and canned fruits are high in sugar, and so are most fruit juices. Here are the fruits to put in the grocery cart when planning diabetic meals.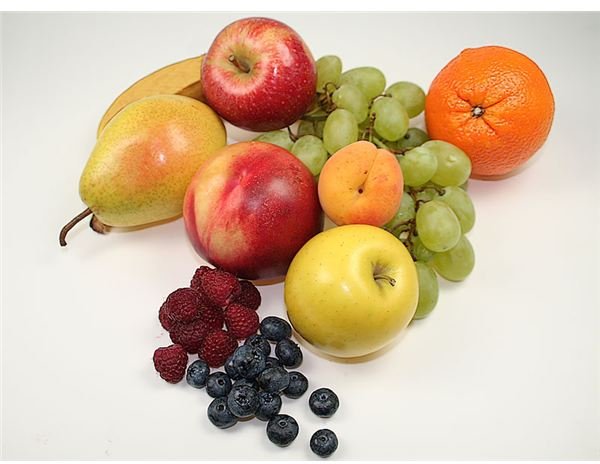 Image Credit/Wikimedia Commons/Public Domain
Apples
Apricots
Blueberries
Grapefruit
Guavas
Kiwifruit
Mangos
Pears
Pomegranates
Are raw foods and vegetables really the best choice? Decide for yourself after reading "Reverse Diabetes with a Live Food Diet,"
Meat and Protein Alternatives for Diabetes Diets
Protein is an important part of any diet, but even more so for the diabetic. Protein helps regulate blood sugar levels, and provides energy. The key for diabetics is to limit red meat consumption, and add more legumes and fish dishes to menus. Fish provide essential fatty acids as well as protein, which is essential for brain health. Let's examine protein choices and substitutes for feeding diabetics.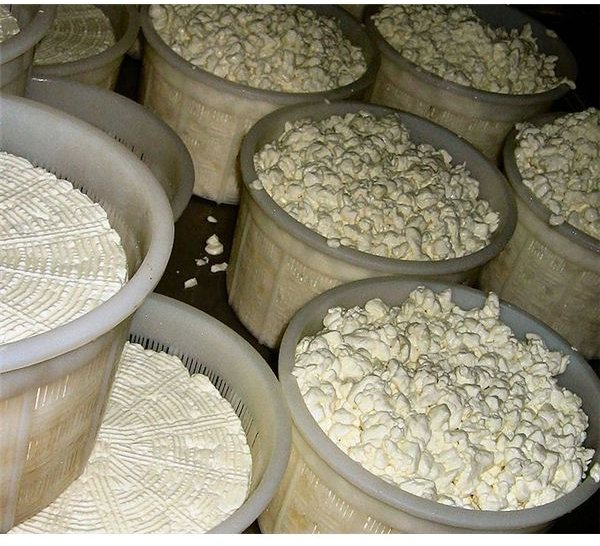 Image Credit/Goat Milk Cheese/Wikimedia Commons/Daniel Ventura
Low fat red meat - beef or bison
Lamb
Veal
Pork
Chicken or turkey with the skin removed
Organ meats
Oily fish like salmon or mackerel
Seafood
Eggs
Milk and dairy products in moderation – goat milk products are preferable
Legumes – beans, lentils, soybeans
To learn about easy ways to include more protein in your diet, read "Foods with High Protein."
Healthy Fats for Diabetics
Fat has been the subject of much dietary debate – to eat or not to eat? Currently, most health professionals advocate the use of moderate amounts of so-called good fats: monounsaturated and polyunsaturated fats, while recommending individuals restrict intake of saturated fats and avoid trans fats. The best way to add healthy fat to diabetic meal planning is by including: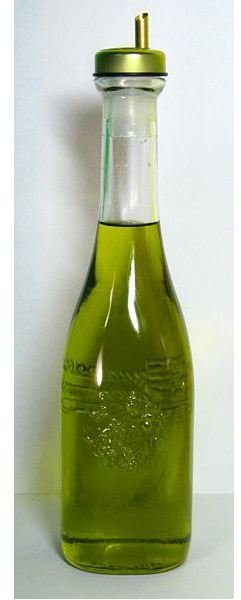 Image Credit/Wikimedia Commons/MyFriend
Vegetable oils like olive, sesame, or sunflower oil
Brazil nuts
Peanuts
Pine nuts
Butter
This list of foods for a diabetic to eat is by no means comprehensive, but it covers the major food groups, and provides a good variety of foods from which healthy meals can be planned. Print this list and take it to the grocery store on shopping trips to help you make wise choices about foods. Please read this disclaimer about this article.
Sources
WebMD, "Diabetic Food List: Best and Worst Choices," accessed 05/30/2010
University of California, San Franciso, Diabetes Education Online, accessed 05/30/2010