Learn About the Healthiest Soups to Make in the Comfort of Your Own Home!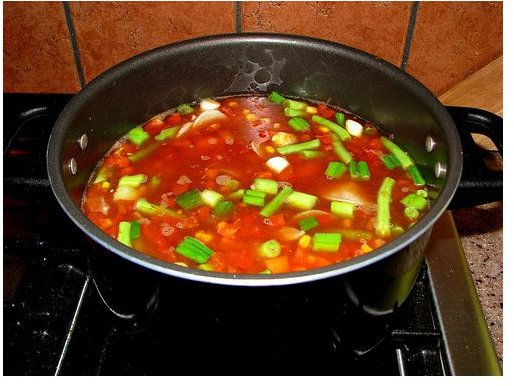 Here's the Low Down:
The trick to coming up with the healthiest soups to make at home is to simply recreate your favorite store bought varieties. You don't have to invest in new cookbooks or relearn your cooking skills after choosing to eat healthier meals at home. You simply need a few simple ideas, tips, and tricks to get you started.
Vegetable Soup
One of the healthiest soups you can make is a simple yet tasty vegetable soup. You can easily create a scrumptious meal using whatever vegetables you happen to have in the house, and you can even create a broth out of the veggies you won't be using in the soup. Just cut up your carrots, celery, broccoli, potatoes, and whatever you have in the house and put the leftover parts (like the ends of the celery and carrots) into a big pot.
Bring it to a boil and then let it simmer until you are satisfied with the broth you've been left with. Once you've strained the broth, simply add your veggies and let it simmer until you are ready to eat!
Potato and Herb Soup
If you love the texture of creamy soups, such as cream of broccoli, but you want to cut down on the high calorie ingredients, consider creating something similarly tasty but without all the fat. You can add additional vegetables or spices if you like, but just the potatoes, herbs, and broth version offers rich flavor and lots of satisfaction. For an even creamier texture, try blending the soup together.
Barley Soup
Barley has a way of really bulking up a soup and turning it into a hefty meal. Barley is also a wonderful whole grain that's nutritious and delicious at the same time. You can add whatever you want to with broth and barley to create this soup, creativity is the key here. Consider using all of your favorite vegetables, spices, and even sauces. For example, you can create a barley soup with an Asian flair by using soy sauce.
Noodle Soup
Who doesn't like noodles in their soup? From old fashioned chicken noodle to saimin, there is a soup with noodles out there for everyone so it's safe to say that you can create your own versions right in the comfort of your own home.
While you can add meat to your noodle soup, if you want to stick with the healthiest soups to make, you might want to eliminate that ingredient. This will help to eliminate any cholesterol and will lower the calories and fat count by quite a bit. Instead of meat choose veggies, tempeh, seitan, or create a simple soup of just broth and noodles. If you just have to have that chicken in your soup, make sure it's white meat with no skin.
Resources
Eating Well "Healthy Soup and Bread Recipes" Retrieved January 18, 2011
CBS news "Hearty, Healthy Homemade Winter Soups" Retrieved January 18, 2011
Image Credits
Flickr/Public Domain