What are the Best Healthy Ways to Cook Salmon?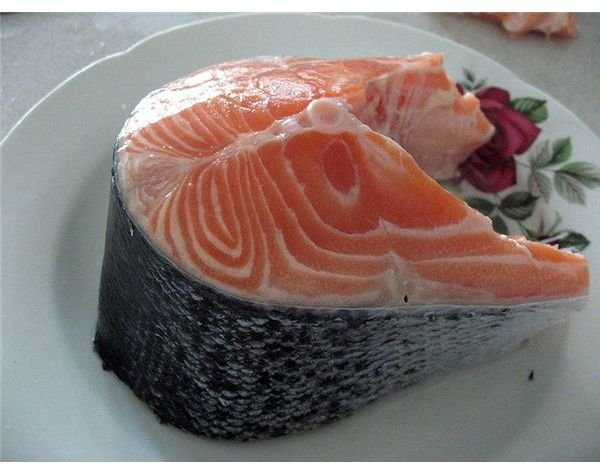 Let's examine some healthy ways to cook salmon like grilling, poaching in wine, or broiling. Any of these cooking techniques preserves the valuable nutrients while supplying a delicious tasty salmon fillet. These methods can be used successfully by cooks of any expertise level, and do not require any specialized equipment or skills.
Image Credit/Wikimedia Commons/Dezidor
Health Benefits of Salmon
Salmon offers a plethora of health benefits. For starters, it is low in calories – just 261 calories in a four-ounce serving, but it furnishes rich sources of omega-3 fatty acids, protein, and vitamin D. Salmon is also low in saturated fats, and supplies vitamins B3, B6, and B12. The tryptophan found in salmon works wonders for mood swings and stress attacks, while other minerals like selenium, phosphorus, and magnesium round out its nutritional profile. Bite for bite, salmon is a healthy food choice.
Weekly consumption of salmon protects individuals against:
Various cancers, like leukemia, multiple myeloma, non-Hodgkin's lymphoma, kidney cancer, colorectal cancer, and prostate cancer.
Eating salmon lowers triglycerides, cholesterol, and blood pressure.
Including salmon in meal plans reduces the risk of stroke, heart attack, deep vein thrombosis, pulmonary embolism, osteoporosis, dementia, and macular degeneration.
Want to improve cardiovascular health? Eat salmon.
To reap the highest benefits, choose wild caught, not farm raised, Chinook or sockeye salmon.
How to Grill Salmon
Grilling salmon is easy and quick. While the salmon is grilling, prepare a simple salad of field greens and dress it with some olive oil and balsamic vinegar. Serve with crusty homemade rolls for a healthy nutritious meal.
You will need:
One inch thick salmon fillets, one per person
Olive or coconut oil
Grill
Salt, pepper, and fresh or dried dill
Fat-free Italian dressing (optional, but tasty)
Preheat the grill to medium-high, or about 400 degrees Fahrenheit for an electric grill. Brush the salmon with oil, and place on the grill. For additional flavor, baste the salmon with Italian dressing while it cooks. Cook it for about four minutes, and then turn it over and cook four minutes. Test for doneness by piercing the flesh to see if it flakes. Season to taste and serve hot.
How to Poach Salmon in Wine
Poaching salmon preserves all the rich fish taste and nutrients, however, the strong taste may not appeal to everyone. For those who do not drink wine, an equal part of water or fruit juice may be substituted for the wine.
You will need the following supplies to poach salmon in wine.
One half-cup of white wine (Riesling wine adds sweetness, chardonnay adds a little bite)
One half-cup of desired liquid: water, or vegetable broth
Fresh or dried dill, sea salt, and pepper
One inch thick salmon fillets, one per person
Large skillet
Put the wine and liquid into large skillet over high heat and bring to a slow boil. Reduce heat to low and add the salmon fillets. Cook the fish four minutes per side, turning once. Test for doneness by seeing if the flesh will flake when pierced with a fork. Season to taste, and then serve hot over rice pilaf with a side dish of mixed vegetables.
How to Broil Salmon in the Oven
A nice benefit of learning to broil salmon in the oven is it is a method that can be used year-round. Whenever you need a quick but healthy dinner, just pull some salmon out of the freezer, thaw, and broil. This simple dinner can be ready in under 20 minutes.
One inch thick salmon fillets, one per person
Olive or coconut oil
Broiler
Broiler pan
Salt, pepper, and fresh or dried dill
Fat-free Italian dressing (optional, but tasty)
Preheat the broiler according to the manufacturer's specifications. Place the salmon fillets on the broiler pan and brush with oil. Place the oven rack about six inches from the heat source, and then put the broiler pan in the oven. Broil salmon for about four minutes, and then remove the pan and baste with the Italian dressing, turning fish over. Put the pan back into the oven, and broil for an additional four minutes, or until flesh flakes. Season the salmon to taste and serve with salad, rice, or grains.
Now that you know some healthy ways to cook salmon, why not try some for dinner tonight?
Sources
World's Healthiest Foods, "Salmon," accessed 07/05/2010
Dr. Weil, "Healthy Ways to Cook Salmon," 07/05/2010, accessed 07/05/2010