Easy Healthy Snacks Which Can Be Served as Meals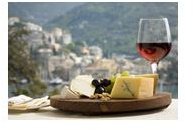 Make mealtime an adventure with delicious snacks
Mealtime can become an adventure when you can turn the old family favorite-hamburgers- into a pleasant surprise by adding tasty fillings between slices of meat. You can get your vegetables and also fruits in by tucking them into the burger, and your kids may be surprised when they take a bite, but they'll admit that it's delicious.
Following are some nutritious and delicious snack ideas.
Savory snacks
Make a mustard-prune burger by splitting 8 ready-to-eat pitted prunes, and putting them on each of 4 meat squares. Top with a teaspoon of mustard relish, or ketchup which kids usually prefer.

Do like the Swedes and make a delicious open sandwich. Butter a slice of bread and cover it lightly with mustard. Top this with lettuce, a roll of ham and cottage cheese. Garnish with paprika.

When chicken is on the menu, you can arrange some pear halves, orange sections and dates on lettuce, and add to it. This is delicious with a taste of mayonnaise.

Alternate tomato and egg wedges on lettuce, and spoon on some mayonnaise.

When potato salad is on the menu, spread split rolls with mayonnaise dressing. Cover with lettuce, roast beef slices, onion and dill pickle.

Make a ham salad. Combine ground baked ham with chopped pickle. Add some prepared mustard and a little mayonnaise to moisten.

Combine drained, flaked tuna or salmon, sweet pickle, chopped celery and a little mayonnaise.

Stuffed hard-boiled eggs can be very nutritious as well as tasty. You can choose from a wide variety of stuffing including meat paste or fish paste, or simply egg yolks seasoned and mixed with mayonnaise.

For luncheons, you can serve spreads such as ham, cheese, corned beef on lettuce leaves garnished with sliced tomato, olives and potato chips.
Cold kebabs
Snacks in this category can be put on a cocktail stick. You can put together diced meats and fruits like cheese and pineapple, pork and pineapple, luncheon meat and cherries. You can also put together sausage and prunes or sausage and red or green peppers.
Cut celery talks into short lengths and fill with cream cheese or grated cheddar cheese. Some mayonnaise can be added here, you can also fill them with canned fish like tuna, seasoned, or potted meat or even scrambled eggs. You can also fill short lengths of cucumber cut lengthwise in two. Remove a great deal of the pulp to leave room for the filling.
Fork snacks
Try some cottage cheese with herbs or nuts, or chopped gherkins, peppers, tomatoes and capers**.** Meat or fish in aspic with chopped vegetables make a tasty snack meal, or try a ham or salmon mousse. Have fun, and Bon appétit.