Best Types of Aerobic Exercise - Interview with Carmen Dura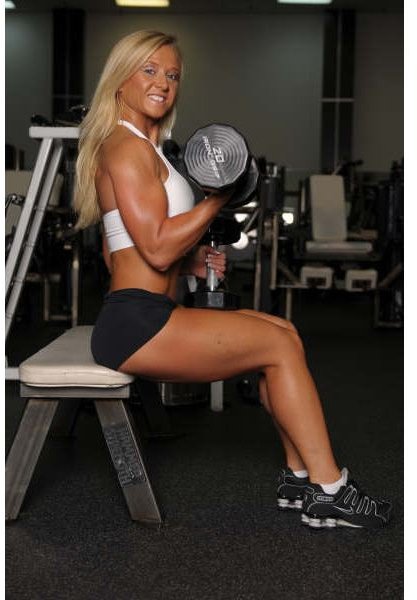 Bright Hub: What are your favorite types of aerobic exercise?
Carmen Dura: One of my favorites is sprint and walking intervals on the treadmill. Of course these aren't for everyone, though. Even so, they are great to tighten the legs! The Stepmill is another one of my favs. Great for the glutes!
Bright Hub: If a person is out of shape and/or overweight/obese, are there certain precautions that should be followed?
Carmen Dura: Definitely! First and foremost, start slow! If you can only do 7 minutes at first, this is ok. Increase your duration at a low level until you can do about 25 to 30 minutes. Then increase your level and cut back on duration until you get to 25-30 minutes again. Too much too soon is too much! You will get better results taking baby steps to allow your body to adjust to something it is not used to.
Bright Hub: What types of aerobic exercise would you suggest that an overweight or obese person (or a fitness beginner) start with?
Carmen Dura: Either the bike or treadmill is good to start with. Go at an easy pace, keep levels low. Increase duration and level when you start to feel more comfortable.
Bright Hub: For more advanced fitness enthusiasts, what would you recommend?
Carmen Dura: If you are advanced, the gym is your playground! Challenge yourself. Try something you haven't done before. You might try adding in a spin class, the stepmill, boxing class, and maybe a conditioning program. Also adding cardio, like skipping to your resistance training program in intervals, increases aerobic capacity and can be very challenging.
Bright Hub: How important is aerobic exercise in a fitness program?
Carmen Dura: Very! Aerobic exercise strengthens the heart, prevents illness and burns calories. Anaerobic exercise, including weight training and explosive movements, is also great–but uses different energy systems. It's super important to train both ways.
Bright Hub: Any final words of advice on aerobic exercise?
Carmen Dura: Stay comfortable during aerobic exercise. If you are extremely out of breath and exhausted, you are no longer using fat as an energy source to keep going. You need oxygen to burn fat aerobically. Don't rely on aerobic exercise to increase lean mass or do too much at one time. At a certain point you stop using fat, the more conditioned you are the longer you are able to go. Always incorporate resistance training into your workouts.
Carmen Dura
About the Trainer
Carmen Dura has been a certified personal trainer for fifteen years. She is the top group fitness instructor for the Alliance Fitness Corporation, having been named Instructor of the Year and Fitness Manager of the Year two years in a row. Carmen's first experience with competitive fitness was in 2006. She has competed in many competitions, from Fitness Model Competitions to Figure and Bikini Competitions. She is a popular fitness model, often featured in fitness blogs and magazines.
Carmen is also the assistant vice president for Toyyboxx.com, a Miami based community website.